Tunneling jumbos
DT1231
Coverage

211.00 m²

Hole length

Up to 6.18 m

Tramming type and distance

Hydrodynamic transmission - Diesel engine - OM904LA (110 kW Tier 3, Stage IIIA)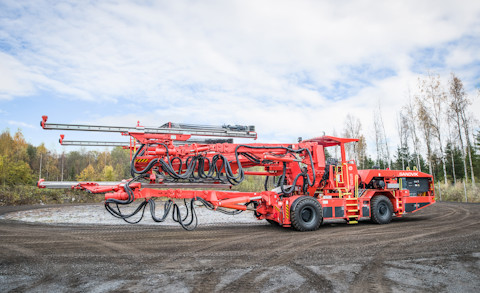 Sandvik DT1231 three-boom jumbo is designed for fast, accurate drilling in tunneling and cavern excavation. It is an advanced drill with added automatic functions and optional instrumentation to maximize productivity and high-quality tunneling.
Optional utility boom

The optional utility boom is engineered for bolting and utility works, allowing the jumbo to install rock bolts or anchors for added support. This enhances the efficiency of the tunneling process and ensures the structural integrity of the tunnel.

Powerful RD520 rock drill

RD520 hydraulic percussive rock drill has an independent reversible rotation and low profile height, offering efficiency and high penetration rate. The rock drill has excellent serviceability thanks to its modular construction and visual wear indicators.

Universal roll-over SB150 booms

Designed for mechanized tunneling, drifting, cross-cutting and bolt hole drilling, these booms have a large optimum-shaped coverage and full automatic parallelism, eliminating the need for manual adjustments.
Product specifications
Learn more about DT1231 features

Optimal safety

The tunneling jumbo can be equipped with a FOPS cabin (option), offering noise and vibration insulation, which provides enhanced operator safety and comfort.

Diagnostics

Built-in diagnostics ensure consistent efficiency while enabling the recognition of potential maintenance issues at an early stage. This reduces overall downtime, allowing for high productivity levels for longer periods.
Can't find the answer to your questions?
Are you looking for a spare part or component?
Looking for technical specifications?