x

CELL CYCLOPS™ SYSTEM
As underground mines are getting deeper and ground conditions more complex to manage, we see a greater need for well-functioning convergence monitoring methods and ground support analysis. With the new Sandvik xCell Cyclops™ convergence system, we now offer you an easy, remote, and instant way to follow your mine online and get your convergence data directly sent to your device.
Need to know more?
FOR THE MODERN MINE
xCell Cyclops™ is a convergence system for ground support in underground mining that provides wireless, continuous, and real-time measurement of ground movements. Squeezing ground and seismic events can have major impact on both the safety and productivity of a mining operation, but the new xCell Cyclops™ convergence system enables remote assessment of rock mass behavior - leading to safer, more efficient, and cost-effective ground support and optimized ground rehabilitation.
The system is setup by three components and is easy adaptable to the conditions in your specific mine.
xCELL CYCLOPS™ SENSOR
A highly precise laser sensor for measurements from one side of the tunnel to the other
Measures up to 20 meters range with +/- 2 mm accuracy
Retrofittable directly onto MD/MDX and Kinlock bolts, with adapters available for other types of bolts
Remote, real-time and unmanned transfer of convergence data via WI-FI or Bluetooth
Pivot and tilt for exact adjustment and orientation optimization when installed
xCELL PROFESSOR™ GATEWAY
A drive-by gateway with automatic data transfer via Bluetooth (if WI-FI is not available)
Placed in already existing mining vehicles
Collects data up to 30 km/hour
WEB APP
User-friendly platform for remote visualization, configuration, and alarms
For web browsers or iOS devices
Cloud-based for remote access
Easy and built-in data export functions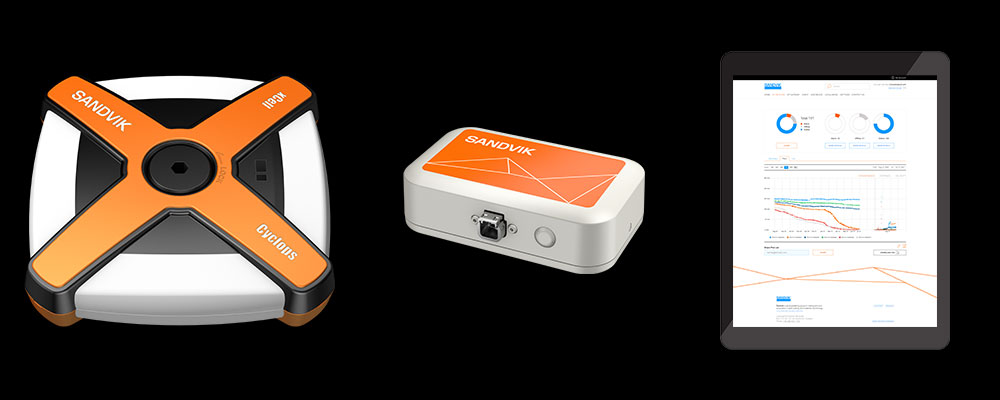 The xCell Cyclops™ convergence system also comes with three levels of subscriptions depending on your requirements – Basic, Gold and Silver – where number of users at a site and devices in remote mode vary across the levels.
BENEFITS AND VALUES
Efficient, remote, unmanned and real-time
Saves time and money in ground support rehabilitation – less material, less transports, and lower operating costs
Less manual work and inspections required in the mine
Creates safer work environments by understanding, analyzing, and forecasting ground movement
Supports new skills and learnings about rock mass behavior and ground movement for mining engineers
Supports digitalization of the mining industry