Top hammer rods
+Range Top hammer drilling rod
Assortment

T38+, T45+, T51+, GT60

Application

Surface drilling

Service life

+30% increase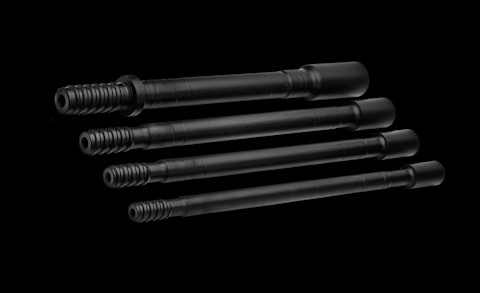 Sandvik +Range is a bench drilling tool system for top-hammer drill rigs that offers long service life, high penetration and excellent hole straightness. These rods can sustain maximal impact from powerful hydraulic hammers while optimizing energy transfer.
Economical sustainability

Up to 30% longer tool life lowers the cost per meter drilled. Each drill rod delivers more meters, meaning fewer rods need to be kept in stock, which contributes to lower tool handling costs.

Higher productivity

These rods deliver more meters drilled and save the time spent replacing drill rods. This improves the utilization rate and increases drill rig uptime in addition to reducing the overall cost of each blast hole.

Innovative technology

Developed with a focus on innovative solutions to create safer operations, reduce production costs, increase reliability and enhance productivity. Their unique steel alloy makes them more wear resistant.
Product specifications
Learn more about +Range Top Hammer Drilling Rod Features
Safe, innovative solutions
These rods are developed with a focus on innovative solutions, providing safe operations, reduced production costs, increased reliability and enhanced productivity.