Sandvik Alpha™ 340
Sandvik Alpha™ 340 is part of the latest development based on our unique and best-selling Sandvik Alpha™ system. Replacing the proven Sandvik Alpha™ 330 thread system, this new concept delivers up to 30% longer service life – leading to significantly increased productivity and lower cost per meter advanced.
Need to know more?
With a new asymmetric thread profile, the product is strengthened where it is most needed. By using different flank angles of the thread profile, the stress levels are reduced in the critical area of the tightening flank, where many breakages begin. The stronger profile also allows an increased diameter of the bit end thread, boosting fatigue strength. Additionally, uncoupling is easier than in previous designs, saving both time and effort during your underground operations.
PRODUCT FEATURES AND VALUES
SHORT, ROBUST THREAD
Reduces bending stresses
STRONG GUIDE
Makes connection rigid
Ensures exact collaring
Gives great hole accuracy
INCREASED THREAD DIAMETER
For higher fatigue strength
Longer service life
BIGGER FLUSHING HOLE
Reduced risk of jamming
Increased ROP
ASYMMETRIC THREAD PROFILE
The strength is where you need it most
Easy to uncouple
LARGER GUIDE SECTION
For higher fatigue strength
Increased rigidity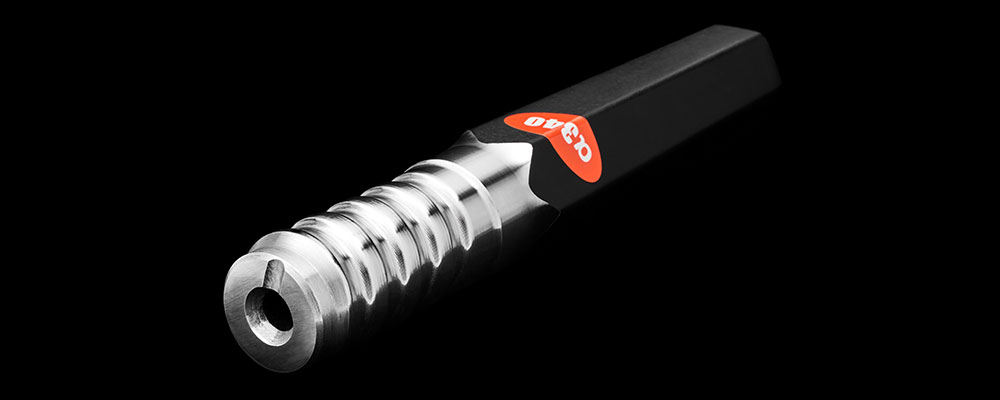 UPDATED FOR SUCCESS
The new thread is designed for use in face drilling and bolting in mine development and tunneling, with hole sizes ranging from 43-51 millimeters. It is available as both round and hexagonal rods - where round rods give the best hole quality and generate the least wear on centralizer bushings, and the hexagonal rods are better for removing cuttings from the hole and for less jamming. In general, round rods work best when the rock is competent, and the hole size has a minimum of 45 mm. Because of the better hole accuracy, round rods are more useful for longer holes, while for fissured ground - such as bolting applications - hexagonal rods are preferred.
The new thread concept also comes with improved drill bits. The successful PowerCarbide® grades from Sandvik are now more widely available in the standard assortment, and many bits have received design upgrades with more gauge angles or larger buttons for increased robustness.
Read more about Sandvik PowerCarbide®
With this new product, the current Sandvik Alpha™ 330 will no longer be available on the market. Our Sandvik Rock Tools team are already working to contact all our current users of Sandvik Alpha™ 330 with information on how to convert to the newly launched and updated product.