Down-the-hole hammers
RH560
Hammer sizes

3.5 - 9.0 in.

Bit sizes

95.00 - 254.00 mm (3.75 - 10.00 in.)

Thread connection

API Reg, Cubex, BECO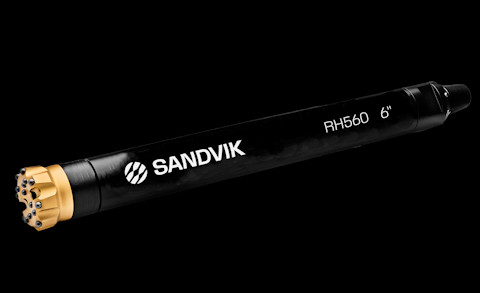 Sandvik RH560 DTH hammer is a robust, reliable addition to surface mining and long-haul production drilling operations. It increases speed and lowers drilling cost per hole.
Productivity and reliability

RH560 is engineered for jobs that require a more efficient air cycle, providing more energy from each blow of the piston to increase the penetration rate. Less air is needed, allowing a faster build-up of pressure and a shorter start-up phase for the drill. Power output remains high but is more energy efficient and uses less fuel.

Cutting edge design

This premium, reliable hammer features a robust piston, a new bit retaining system to carry high loads, a reduced number of inner components to minimize parts breakage and a V-lock system to prevent component movement.

Quality and efficiency

The hammer does not use a foot valve, which prevents inconvenient and costly breakdowns. It is designed for less airflow loss, to provide better efficiency and lower energy costs. It starts up smoothly, allowing for better and quicker collaring in any rock condition.
Product specifications
Can't find the answer to your questions?
Are you looking for a spare part or component?
Looking for technical specifications?