Diesel trucks
Toro™ TH551i
Dimensions (LxWxH)

11,500 x 3,200 x 3,200 mm

Capacity

51,000 kg

Box range

24 - 30 m³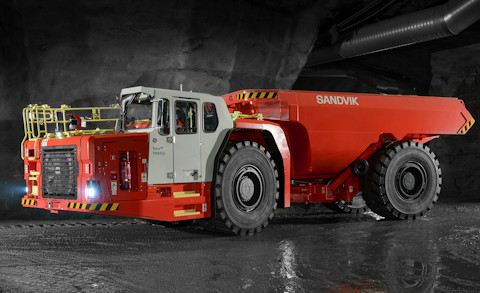 Toro™ TH551i is an underground truck with high productivity. It has a low weight, 51-tonne payload capacity and high ramp speeds. It also offers a superior cabin design and increased safety, along with digital solutions for maintenance.
Low weight, high capacity

This underground truck combines a low weight with a high payload capacity of 51 tonnes. Its high ramp speeds are designed to boost productivity.

Premium cabin ergonomics

The cabin provides comfortable working conditions, supporting the operator to utilize the truck's full potential. With premium ergonomics, including air conditioning, dust- and noise-resistant upholstery materials, and multiple adjustment possibilities, it ensures optimal operator comfort.

Digitally versatile

TH551i offers Sandvik Intelligent Control System, OptiMine® data collection and AutoMine® readiness as standard smart solutions. Optional features include an integrated jacking system and Integrated Weighing System (IWS).
Product specifications
Learn more about TH551i features

Enhanced operator safety

The ROPS- and FOPS-certified cabin protects the operator and enhances safety. TH551i features 3-layer laminated safety glass windows, an illuminated entrance with secure handles, anti-slip steps and a door system with a magnetic interlock switch that activates the brakes upon opening.

Maintenance friendly

Daily maintenance is carried out at ground level. When accessing the top is needed, 3-point contact handles, anti-slip steps, perforated top covers and anti-slip tapes ensure steady grip. Standard safety features include lockable switches, articulation lock, box support and wheel chocks.

Integrated jacking system

The optional integrated jacking system provides a safer, quicker solution for lifting the truck during tire failure. It can elevate the fully loaded truck using a hydraulic system and is controlled remotely.

Low cost per tonne

The fuel-efficient Volvo engine ensures durability and cost-effectiveness. The equipment's low weight, efficient engine technology, fast ramp speeds and up to 25% lower fuel consumption result in a low cost per tonne. Reduced fuel consumption also aids in CO2 emission reduction.
Can't find the answer to your questions?
Are you looking for a spare part or component?
Looking for technical specifications?