Diesel trucks
TH315
Dimensions (LxWxH)

7,800 x 2,300 x 2,400 mm

Capacity

15,000 kg

Box range

0 - 8 m³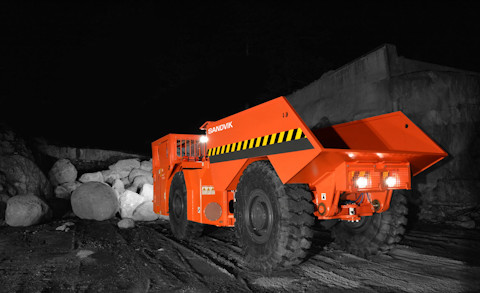 Sandvik TH315 truck is a compact underground vehicle with a 15-tonne capacity built to offer the flexible mobility necessary in narrow-vein mining conditions. This underground truck carries high payloads for its weight and is quick and maneuverable on inclines.
Easy navigation

The small envelope size and turning radius enable straightforward navigation.

Optimum payload capacity

Excellent payload capacity improves productivity and provides a low cost per hauled tonne.

Optimized ore-moving

Two-pass truck loading with Sandvik LH307 underground loader optimizes the ore-moving process.
Product specifications
Learn more about TH315 features

Safer servicing

Ground-level daily maintenance points enable safer servicing.

Easy to maintain

This underground truck is designed to be reliable and easy to maintain. The color-coded three-point-of-contact access system with fold-out ladders and handles offers easy access to the maintenance areas on the truck's top.
Can't find the answer to your questions?
Are you looking for a spare part or component?
Looking for technical specifications?