Diesel trucks
Toro™ TH320
Dimensions (LxWxH)

9,100 x 2,200 x 2,400 mm

Capacity

20,000 kg

Box range

11 - 14 m³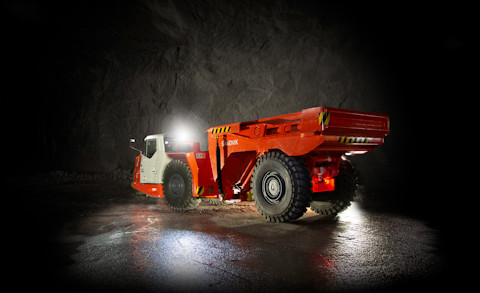 Toro™ TH320 truck is a 20-tonne mining vehicle tailored for small and medium-sized hard rock mines. Despite its high payload capacity, it maintains the same overall width as typical 15-tonne trucks.
High performance underground

This underground truck has a robust structure, compact size and purpose-built components to ensure productivity in challenging environments. It features an improved front approach angle to minimize impacts on rough terrain.

Low fuel consumption

The 235 kW Tier 3 Volvo engine is equipped with a catalytic purifier and muffler, ensuring engine longevity in underground mining. The fuel-efficient 8-liter engine with advanced injection technology promotes efficient combustion and minimal fuel consumption.

Narrow width

Its narrow size is designed for operation in small and medium-sized hard rock mines and fits in 3 x 3 meter headings.
Product specifications
Learn more about TH320 features

E

asy maintenance

This underground truck offers convenient ground-level daily maintenance. Safety is enhanced with features such as a lockable main switch, articulation lock and box maintenance support. Sandvik Intelligent Control System monitors equipment health and offers early warnings.

Optional ejector box

The truck comes with a wide range of box options including an ejector box for backfilling and unloading in areas of restricted dump height.

Optimized grease consumption

The automatic central lubrication system optimizes grease consumption and enhances the lifespan of bushes and bearings. It's activated by the Sandvik Intelligent Control System when the parking brake is released, ensuring effective lubrication of hard-to-reach areas and reducing service time.