Diesel trucks
Toro™ TH430
Dimensions (LxWxH)

10,200 x 2,600 x 2,600 mm

Capacity

30,000 kg

Box range

14 - 18 m³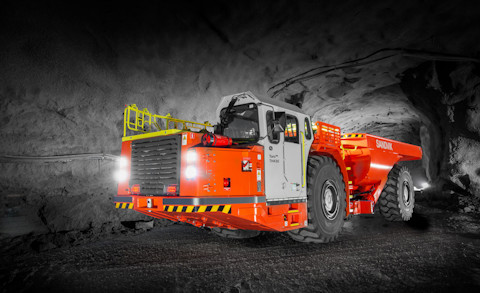 Toro™ TH430 is a dump truck with a robust design and compact size, making it suitable for underground mining. Its power-to-weight ratio enables fast tramming speeds and shorter cycle times, aided by the automatic gear shifting and torque converter lock-up of the Dana transmission.
High maneuverability

TH430 has a small envelope size, making it easy to maneuver and navigate in restricted widths and heights.

Easy maintenance

The 7-inch touchscreen provides service information and system diagnostics including early warnings. This, combined with easy-to-clean coolers and ground-level daily maintenance, make it easy to carry out regular services.

Reduced emissions

To reduce emissions, the truck can run on renewable paraffinic diesel fuels that meet the EN 15940 standard and is also able to use a mix of diesel and paraffinic fuels.
Product specifications
Learn more about TH430 features

Three-pass loading

This truck is fit for three-pass loading with matching pair, LH410, to optimize the ore-moving process and increase production. This method carefully loads the truck within weight limits and ensures full loads every cycle.

Superior braking power

Like all Sandvik trucks, it features spring-applied hydraulic release brakes for enhanced safety. An optional automatic electric retarder is available to prevent brake overheating and reduce wear.

FEA-optimized frames

TH430's frame incorporates welded steel box structures for robustness against shock loads and an extended frame lifespan. Frames are designed using Finite Element Analysis (FEA) and constructed with high-strength structural steel, offering a high strength-to-weight ratio.
Can't find the answer to your questions?
Are you looking for a spare part or component?
Looking for technical specifications?