Surface down-the-hole drill rigs
Leopard™ DI560
Hole diameter

90.0 - 165.0 mm (3.5 - 6.5 in.)

DTH-hammer

4, 5 and 6 in. (Sandvik RH460 & RH560)

Flushing air capacity

24.4 m³/min at 24 bar, 21.6 m³/min at 30 bar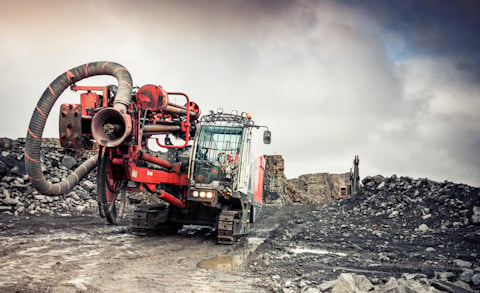 Leopard™ DI560 is a highly mobile, compact, diesel-powered down-the-hole (DTH) drill designed for DTH blasthole drilling in mining, quarry and construction industries. Features include a self-contained design, operator's cabin, fixed boom, dust collector and drill pipe changer.
Accurate control system

The drill rig features an accurate control system with simple icon displays, enabling seamless cooperation of man and machine.

Clever compressor management system

The compressor management system and 328 kW diesel engine enable the rig to use a normal 24 bar DTH hammer or 30 bar high-pressure version. Operators can choose used compressor airflow and air pressure via machine user interface, meaning all power is fully utilized, lowering energy consumption and operating costs.

Straightforward serviceability

The easy-to-service modular design of Leopard™ DI560 reduces maintenance costs and improves equipment uptime. All daily maintenance points are located at ground level to simplify the process and improve the safety of service personnel.
Product specifications
Can't find the answer to your questions?
Are you looking for a spare part or component?
Looking for technical specifications?