Electric loaders
Sandvik LH409E
Dimensions (LxWxH)

10,500 x 2,500 x 2,400 mm

Capacity

9,600 kg

Bucket range

3.8 - 4.6 m³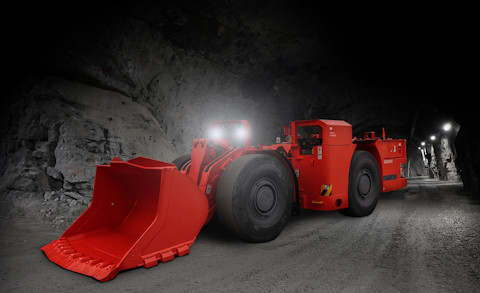 Sandvik LH409E is a high-productivity electric underground loader with a tramming capacity of 9,600 kg. Zero emissions and low noise contribute to a cleaner and quieter working environment. Reliability, fast bucket filling and rapid cycle times deliver high capacity at a low cost per tonne.
Zero-emission electric motor

LH409E electric motor creates zero diesel emissions, significantly reducing noise levels, vibrations and heat. This contributes to an improved working environment in underground operations.

Easy servicing

Easy, ground-level access for service and maintenance optimizes uptime.

High power-to-weight ratio

A high power-to-weight ratio combined with high breakout forces, high tramming speeds and unique bucket filling enables the operator to move more material faster.
Product specifications
Electrification
More productive, powerful and better for workers' health
"Every mine has a capital purchase or a maintenance replacement coming up in the next few years, and they would be missing out if they decided not to investigate or pursue battery-electric technology."
Can't find the answer to your questions?
Are you looking for a spare part or component?
Looking for technical specifications?