Dimensional stone drill rigs
Ranger™ DQ500
Hole diameter

45.00 - 89.00 mm (1.75 - 3.50 in.)

Rock drill/DTH Hammer

15.5 kW

Flushing air capacity

6.2 m³/min up to 10 bar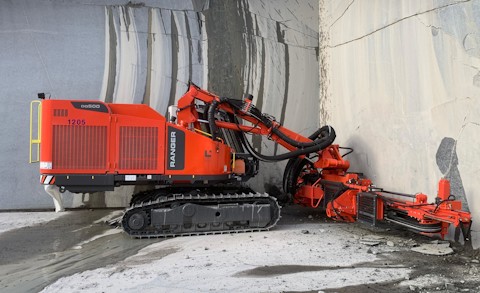 Ranger DQ500 is a hydraulic surface drilling rig with a ROPS and FOPS-certified cabin, radio remote control and rod handling system. It is designed for pilot hole drilling in dimensional stone quarries and underground bolting applications.
Hydraulic roll-over boom

The rig's hydraulic roll-over boom gives operators excellent flexibility while horizontal drilling.

Extensive coverage

The turning upper structure provides a large drilling coverage in horizontal and vertical drilling.

Full remote access to the rig

The rig provides an easy and safe operation with full remote control capabilities, including drilling, boom movements and tramming.
Product specifications
Learn more about Ranger™ DQ500 features

Minimum ground clearance

Achieve minimum ground clearance thanks to the drill rig's customized chain feed and rod handler.

Extra stability

Extra support legs for the feed contribute added stability during drilling, improving operational safety.