Secondary breaking drill rigs
DB331
Reach

Up to 11.33 m

Hole length

Up to 2.23 m

Hole diameter

41 - 64 mm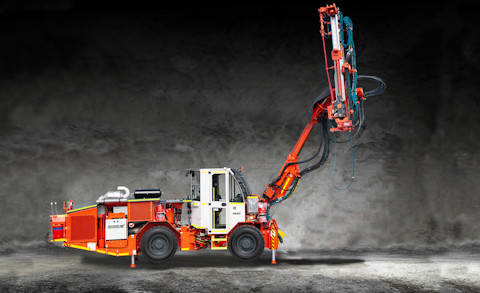 Sandvik DB331 is a mobile drill-and-charge unit that provides for efficient ore facilitation, such as rock reduction and blockage releases in drawpoints. Remote operation prioritizes mine safety and productivity.
High boom coverage

The telescopic SB60P boom features double rotation actuators and a compact charging head. As a result, operators achieve up to 11.33 meters of reach and easy positioning inside the drawpoint.

Safe teleremote operation

An ergonomic radio remote control panel, with Wifi remote video assistance, allows operators to manage a fully teleremote operation.

Self-contained autonomous drill

Based on a self-contained diesel hydraulic platform, Sandvik DB331 features an autonomous drill for remote operations. It vastly improves operator safety and allows for flexible operations in confined spaces.
Product specifications
Learn more about DB331 features

Mechanized drill with explosive charging

Mounted on Sandvik DB331's charging head, the explosive charging device uses the drill and blast method for fragmenting boulders. The high-frequency rock drill speeds up the drilling process, meaning less exposure under the drawpoint.

Improved visual capacity

Operators can use Sandvik DB331 remotely by accessing the video system, which includes a tablet display, 3D-zoom camera and multiple wide-angle cameras.

Air-mist flushing

The unit features an onboard water tank. Working alongside the large air compressor, operators can air-mist flush to reduce the dust.
Can't find the answer to your questions?
Are you looking for a spare part or component?
Looking for technical specifications?