Largest BEV underground mining truck begins trials at Sunrise Dam
A three-party agreement between AngloGold Ashanti, Barminco and Sandvik has resulted in Australia being the testing ground for Sandvik TH665B, the largest battery-electric underground mining truck.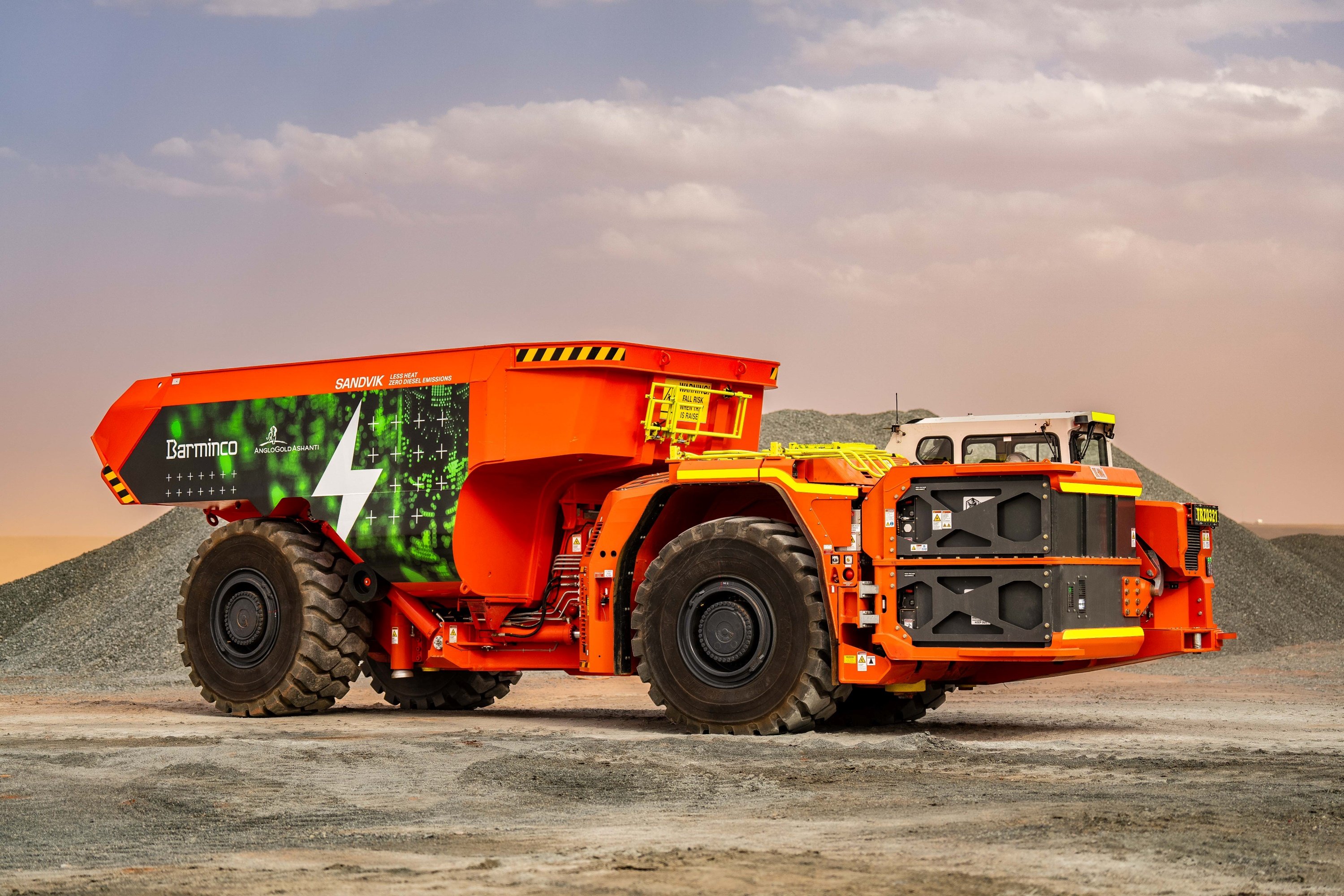 Western Australia's Sunrise Dam mine is hosting the world-first trial as the Sandvik TH665B is put to work in Australian conditions.
Under an agreement between mine owner AngloGold Ashanti, hard rock underground contract miner Barminco and Sandvik, the gold operation near Laverton began trialing the prototype 65-metric-ton Sandvik vehicle on September 14 – with the wider industry keeping a close eye on the results. As well as producing zero diesel emissions underground and generating 80 percent less heat, the Sandvik TH665B is expected to be up to 25 percent faster on a 1:7 ramp than regular diesel trucks.
Darren Kwok, Head of Electrification and Technology for Barminco's parent company Perenti, said he is excited to see just what the new Sandvik BEV can achieve.
"As a business we are focused on how we can support our clients to decarbonize their mines and trialling equipment to support this is a critical part of our strategy," he said. "Battery-electric vehicles (BEVs) not only have the potential to lower carbon emissions, they can also improve the underground environment for mine workers and boost the efficiency of operations. We're extremely pleased that the first Sandvik TH665B to be built has come to Sunrise Dam for real world trials with us and AngloGold Ashanti. With the longer haul ramps and the harsh Australian operating conditions, it will be put to the test. We're looking forward to trialing the Sandvik TH665B and putting it through its paces."
Andrew Dawson, Business Line Manager for Load and Haul at Sandvik, added, "We're delighted to be working with AngloGold Ashanti and Barminco on these trials. The data that we gain from seeing the prototype interacting with Australian conditions will be invaluable as Sandvik continues to develop its battery-electric range and as the Sandvik TH665B moves into commercial production phase."
Lithium-Iron Phosphate battery
The local mining industry got its first glimpse of the Sandvik TH665B when it made its Australian debut at the World Mining Congress in Brisbane, earlier this year. Developed on the back of more than 40 years of electrification experience, the machine uses lithium-iron phosphate (LiFePO4 or LFP) battery technology. The electric driveline delivers 630 kW (858 hp) of continuous power, allowing for high acceleration and shorter cycle times. It produces zero diesel emissions underground and significantly less heat than a comparable conventional truck.
Sandvik will have four local technicians on site who will support the machine throughout the trial and will provide operator and maintenance training to the teams on site.
Kwok said Barminco's parent company, Perenti, is working in collaboration with a number of partners towards a fully electrified, zero CO2 and zero diesel particulate mine.
"We believe BEVs like this one have a critical role to play in the electric mines of the future and supporting decarbonization," he said. "In this trial, two areas we will be monitoring closely are the ramp speed and the contribution to emissions reduction. Sandvik has said that a fully loaded Sandvik TH665B will be up to 25 percent faster on a 1:7 ramp than a conventional diesel truck - so we will be keen to see that in action."
Battery self-swapping
Dawson said another key feature of the Sandvik TH665B is battery self-swapping. "It is equipped with AutoSwap, our patented self-swapping system which makes the battery changing process extremely fast and easy, usually taking only three minutes," he said. "It also allows the operator to stay in the cabin during the process, and there's no need for major infrastructure like overhead cranes."
Dawson said Sandvik BEVs offer a range of economic, sustainability and health and safety benefits. From an economic perspective, they can increase productivity and muck pile performance, reduce cycle times, and lower operating costs and ventilation and cooling costs. In terms of sustainability, BEVs can reduce greenhouse gas emissions, increase energy efficiency and promote fuel independence. "Finally, there are major benefits from Sandvik BEVs for operator health and safety thanks to reduced diesel particulates, less noise and vibration and a reduction in heat generation," he said.
Both AngloGold Ashanti and Barminco are proactive about increasing mine efficiency, improving conditions and safety for mine staff, and reducing emissions. AngloGold Ashanti's 2022 Sustainability Report released earlier this year charted a course to achieve net zero Scope 1 and 2 GHG emissions by 2050. The company aims to achieve this with a combination of renewable energy projects, fleet electrification and lower-emission power sources.
About Sunrise Dam
AngloGold Ashanti's Sunrise Dam gold mine is located 220 kilometers northeast of Kalgoorlie and 55 kilometers south of Laverton in Western Australia. Underground mining is carried out by Barminco under an alliance contract and is the primary source of ore following the cessation of mining in the open pit in 2014. The underground mine produces approximately 2.7 million metric tons of ore annually, which is supplemented by low-grade stockpiles generated during open cut mining to fill the processing plant.
About Sandvik TH665B
Maximum Payload: 65 metric tons
Standard Dump Box: 36 cubic meters
Overall Length: 11.6 meters
Overall Width: 3.5 meters
Overall Height: 3.6 meters
Speed 1:7 ramp-loaded: 9.6 kilometers/hour
Brisbane, Australia, September 20, 2023
For more information, please contact:
Kate Bills
GM Sustainability, Marketing & Communications
Sandvik Mining and Rock Solutions
Email: kate.bills@sandvik.com
Sandvik Group
Sandvik is a global, high-tech engineering group providing solutions that enhance productivity, profitability and sustainability for the manufacturing, mining and infrastructure industries. We are at the forefront of digitalization and focus on optimizing our customers' processes. Our world-leading offering includes equipment, tools, services and digital solutions for machining, mining, rock excavation and rock processing. In 2022 the Group had approximately 40,000 employees and revenues of about 112 billion SEK in about 150 countries within continuing operations.
Sandvik Mining and Rock Solutions
Sandvik Mining and Rock Solutions is a business area within the Sandvik Group and a global leading supplier of equipment and tools, parts, service, digital solutions and sustainability-driving technologies for the mining and construction industries. Application areas include rock drilling, rock cutting, loading and hauling, tunneling and quarrying. In 2022, sales were approximately 57 billion SEK with about 16,200 employees.