Sandvik introduces Top Hammer XL, a fully optimized top hammer system for large hole size drilling in surface mining
Top Hammer XL is the latest innovation in surface top hammer drilling from Sandvik Mining and Rock Solutions. The new, groundbreaking drilling system, targeting large-scale quarry and surface mining customers, offers a faster, more fuel-efficient and more cost-effective way to drill holes 140 to 178 millimeters (5.5 to 7 inches) in diameter. The components of the system – a new Pantera™ DP1600i drill rig, new RD1840C rock drill and new LT90 rock tools – are all optimized to work together seamlessly for exceptional drilling results.
Higher productivity - lower fuel consumption
Sandvik is challenging the industry by introducing a groundbreaking top hammer drilling innovation that offers the benefits of top hammer drilling technology as a viable alternative to down-the-hole (DTH) drilling, on a much larger scale than before. The Top Hammer XL drilling system expands the hole size range of top hammer drilling to up to 178 millimeters (7 inches) and provides a faster and more fuel-efficient drilling method. It is part of Sandvik's commitment to use engineering and innovation to make the shift that will drive safer and more sustainable business. In addition to excellent drilling results, it offers an effective solution to reduce fuel consumption and, ultimately, CO2 emissions. This more fuel-efficient yet productive drilling method can help Sandvik customers grow their business in a more sustainable way.
A fully optimized system
The heart of the Top Hammer XL system lies in Sandviken, Sweden, and Tampere, Finland, where all the components have been designed and manufactured. They work seamlessly together and provide smooth operation and a highly productive system with optimum drilling results. "A key asset of the Top Hammer XL drilling system is that all three main components – the drill rig, rock drill and rock tools – have been reviewed, redesigned and mutually optimized," says Jukka Siltanen, Product Line Manager, Rock Drills at Sandvik Mining and Rock Solutions.
Proven efficiency that makes a difference
The efficiency of the new Top Hammer XL drilling system stems from the three components. The proven carrier offers a solid base for the extremely powerful rock drill that generates an optimum pulse for the effective tooling system, which in turn transfers the high-energy shock wave with minimum losses to the rock. The Top Hammer XL system has been thoroughly tested and proven in several field tests by drilling more than 100,000 meters in challenging rock conditions. The test results in the given conditions show a 50 percent reduction in fuel consumption, 25 percent reduction in total drilling costs and 15 percent increase in productivity compared with the DTH drilling method*.
Pantera™ DP1600i – next level choice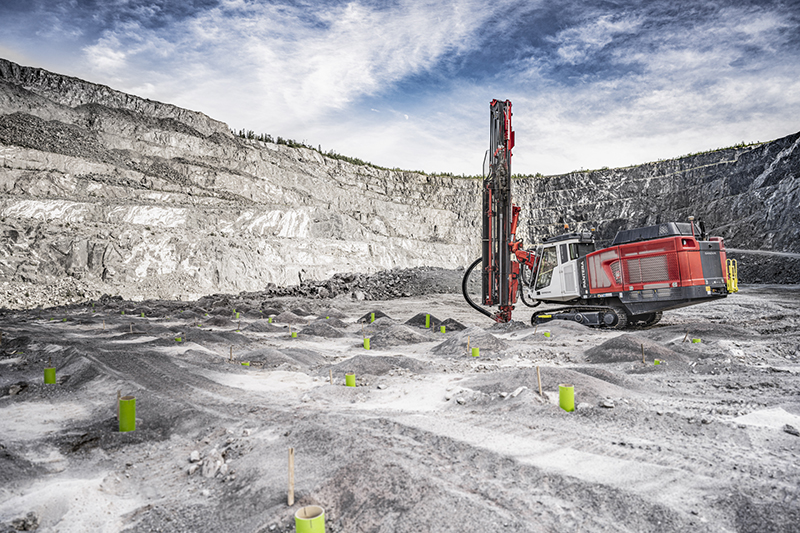 Pantera™ DP1600i is the newest member of the Pantera™ DPi series family of intelligent top hammer drill rigs, characterized by high penetration rates and advanced automation options for data-based fleet management and drilling performance optimization. Designed for large hole size drilling, the Pantera™ DP1600i, with its practical intelligence and support for higher-level automation solutions, is ideally suited for production drilling in large quarries or open pit mines.
The new Pantera™ DP1600i is based on the reliable and proven Pantera™ DPi series platform, with upgraded key components to meet the needs of the Top Hammer XL system. Together with the powerful RD1840C rock drill and robust LT90 rock tools, the end result is extreme capacity for a larger hole size, without increasing the actual physical drill rig footprint. Pantera™ DP1600i offers the highest power in its class and can be customized with a variety of options to meet special requirements.
With a long track record and proven performance in top hammer drilling, Pantera™ DP1600i will bring a true productivity boost to surface mining customers, featuring next-level technical solutions that provide power, fuel economy, more uptime and smooth flow of operation. "The Pantera™ DPi platform has proven itself over the years, starting as far back as 2008, so it was a natural choice to upgrade the existing platform to the next level for this new solution," explains Jarno Viitaniemi, Product Manager, Surface Drilling at Sandvik Mining and Rock Solutions.
Pantera™ DP1600i drill rig is available with Tier 3 and Stage 5 engine emission versions.
RD1840C rock drill – more power than ever

The new RD1840C rock drill is designed for large hole drilling with high 49 kW (66 hp) drilling power. Its robust design and well-balanced long piston percussion package are made especially for demanding circumstances. The new layout of pressure accumulators maximizes efficiency and minimizes hose vibrations. The state-of-the-art manufacturing process ensures the required high quality of the rock drill components.
The long piston technology generates high-impact energy with optimum pulse form, optimizing performance in large hole drilling without compromising the rock tools' service life. The geometry and physical dimensions of the new RD1840C rock drill have been optimized for the entire Top Hammer XL drilling system.
As an additional option, RD1840C will be available with the Sandvik RockPulse™ tool stress monitoring system later in 2021. The system offers the drill operator real-time measurement data on three key drilling parameters: drill bit response, tools load and feed level. The system measures the stress waves and guides the operator to find the right drilling parameters for the best rock contact and performance.
LT90 rock tools – a boosted drilling experience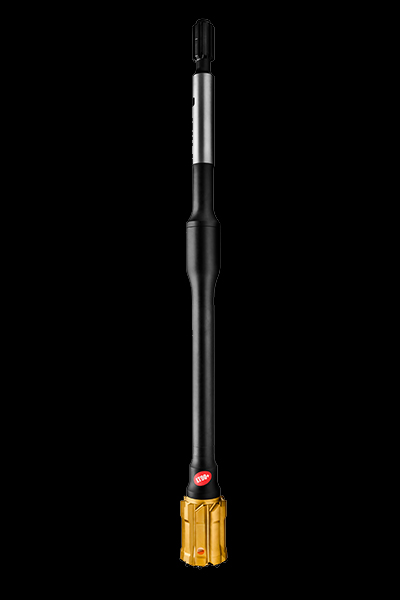 The LT90 rock tools are developed to match the other components in the Top Hammer XL system. The tools – consisting of a shank adapter, MF tube rods and drill bits - offer the best possible drilling dynamics and rock-breaking efficiency. "Our patented and optimized LT90 rock tools design increases productivity, improves hole straightness and provides great coupling characteristics and a long service life," says Fredrik Björk, Product Manager Top Hammer Surface Tools at Sandvik Mining and Rock Solutions. "All in all, this new shoulder-driven system with a double-pass thread gives our customers a much better drilling experience. Combined with Sandvik's class-leading rock tools services, it will truly help our customers reach new levels in their drilling operations,"
The LT90 shank adapter, using high-quality steel, is designed for optimal energy transfer from the rock drill piston into the drill string and is developed in close collaboration between Sandvik's experts on both rock tools and rock drills to ensure ideal performance.
With the new MF tube rods, developed to convey high-energy shock waves with minimal energy loss in the threads, Top Hammer XL customers will get a higher rate of penetration, straighter holes and increased service life for the whole drill string. The optimized thread design minimizes stress levels from bending, and excellent coupling characteristics are seen in the double-pass thread of this tool system. Premium steel grades and heat-treatment processes further improve its durability.
Sandvik's classic and patented retrac design form the base for the LT90 drill bits, with a strong gauge row, excellent flushing, high rock-breaking capabilities and reduced hole deviation. The drill bits are available from 140 to 178 millimeters (5.5 to 7 inches) and can be delivered with standard carbide grades as well as PowerCarbide™, depending on the rock formation.
Customer is the key
With the new Top Hammer XL system, Sandvik complements its offering for surface mining customers in the continuous search to find optimum drilling solutions for different requirements. "Our aim is to serve our customers with the best solutions for every application and in all conditions in order to maximize their productivity with a strong focus on safety and sustainability," says Petri Virrankoski, President, Surface Drilling at Sandvik Mining and Rock Solutions. "We are extremely excited to lead the way in the industry as Top Hammer XL opens up completely new possibilities for our customers to improve their operations."
(*Estimations are based on field test results under specific controlled conditions. The results may vary depending on the actual drilling conditions and thus Sandvik does not guarantee the same outcome in any other conditions.)
Technical specification data for each system component can be found at rocktechnology.sandvik/th-xl
Tampere, Finland, 24 March 2021
For more information, please contact:
Pantera™ DP1600i drill rig:
Jarno Viitaniemi
Product Manager, Surface Drilling Division
tel. +358 40 744 8612
email: jarno.viitaniemi@sandvik.com
Sandvik RD1840C rock drill:
Jukka Siltanen
Product Line Manager, Rock Drills and Technologies Division
tel. +358 40 669 4442
email: jukka.siltanen@sandvik.com
Sandvik LT90 rock tools:
Fredrik Björk
Product Manager, Top Hammer Surface Tools, Rock Tools Division
tel. +46 2626 4621
email: fredrik.bjork@sandvik.com
---------------------------------------------------------------------------
Sandvik Group
Sandvik is a high-tech and global engineering group offering products and services that enhance customer productivity, profitability and safety. We hold world-leading positions in selected areas – tools and tooling systems for metal cutting; equipment and tools, service and technical solutions for the mining industry and rock excavation within the construction industry; products in advanced stainless steels and special alloys as well as products for industrial heating. In 2020 the Group had approximately 37,000 employees and revenues of about 86 billion SEK in more than 160 countries within continuing operations.
Sandvik Mining and Rock Solutions
Sandvik Mining and Rock Solutions is a business area within the Sandvik Group and a global leading supplier of equipment and tools, parts, service and digital solutions and sustainability-driving technologies for the mining and construction industries. Application areas include rock drilling, rock cutting, loading and hauling, tunneling and quarrying. In 2020, sales were approximately 33.6 billion SEK with about 12,500 employees within continuing operations.