Sandvik breaks ground on new workshop in Perth, Australia
Sandvik Mining and Rock Technology has signalled its ongoing commitment to the Australian mining and construction equipment market, signing a long-term lease for a new purpose-built workshop in Perth. Construction is underway with the workshop scheduled for completion in 2021.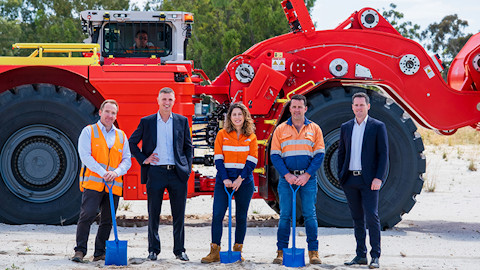 Located at Roe Highway Logistics Park (Kenwick, Perth), the 16,000 square metre site will include a state-of-the-art workshop, modern office, meeting facilities, as well as testing and training equipment.
An even stronger offering
According to Nathan Cunningham, Sandvik Business Line Manager – Service in APAC, Roe Highway represents a strategically important location to be able to better support Sandvik's Australian customers.
"The strategic location of our new workshop, with its central position, freight rail and RAV7 truck access will enable us to further support our Western Australian customers and the purpose-build design will improve equipment repairs, inspections and our rebuild capability for our equipment offering".
"The improved layout, increased size, additional bays and design will enable our fully-trained service technicians, aftermarket support and technology specialists the ability to work more efficiently".
"To continue to support our customers, we need to continue to invest in facilities that will not only support our existing markets, but will also have the capacity and capability to support the growing demand for future products, such as our electric load and haul offering.
The new workshop will be fully accredited and work to OEM standards "The high quality of our rebuilds allows us to provide full warranties on the machines we strip down and rebuild," said Mr Cunningham.
In line with Sandvik sustainability goals
Kate Bills, Sustainability, Marketing & Communications Manager at Sandvik in APAC, says the purpose-built facility has been designed to align with Sandvik's 2030 Sustainable Business goals, which address a circular society, climate change, safety and fair play.
"At Sandvik, we want to ensure that sustainability is integrated into everything we do. This includes reducing our CO2 footprint, minimizing waste in our production process and providing the highest safety standards for our employees".
"As part of Sandvik's sustainability goals, we're aiming to halve our C02 footprint by 2030, so the new workshop incorporates state-of-the-art design elements to help us achieve this such as solar panels, green concrete and the use of low carbon building materials".
The site will also include best-practice water management, energy efficient lighting, natural ventilation and rainwater harvesting.
"For Sandvik, being a leader in both innovation and sustainability is key in recruiting the right talent, continuing to be our customers' preferred choice and remaining a company that is attractive to investors", Miss Bills says.
Judd Dyer, Director at Hesperia, added that as part of Roe Highway Logistics Park's commitment to sustainability, a range of initiatives have been implemented across the design and functionality of the site.
"We are on the path to achieving carbon neutrality at Roe Highway Logistics Park and have a heavy focus on energy, recycling, environmental sustainability and water efficiencies. Providing brand new, purpose-built facilities for our tenants, such as Sandvik, allows us to incorporate these features and help futureproof their operations," said Mr Dyer.
For more information, contact:
Kate Bills
Sustainable Business, Marketing & Communications Manager
Sandvik Mining and Rock Technology
email: kate.bills@sandvik.com
---------------------------------------------------------------------------
Sandvik Group
Sandvik is a high-tech and global engineering group offering products and services that enhance customer productivity, profitability and safety. We hold world-leading positions in selected areas – tools and tooling systems for metal cutting; equipment and tools, service and technical solutions for the mining industry and rock excavation within the construction industry; products in advanced stainless steels and special alloys as well as products for industrial heating. In 2019, the Group had approximately 40,000 employees and revenues of about 100 billion SEK in more than 160 countries within continuing operations.
Sandvik Mining and Rock Technology
Sandvik Mining and Rock Technology is a business area within the Sandvik Group and a global leading supplier of equipment and tools, service and technical solutions for the mining and construction industries. Application areas include rock drilling, rock cutting, crushing and screening, loading and hauling, tunneling, quarrying and breaking and demolition. In 2019, sales were approximately 45 billion SEK with about 14,000 employees in continuing operations.
About Roe Highway Logistics Park
Roe Highway Logistics Park (RHLP) is a 56-hectare development located on the corner of Roe Highway and Welshpool Road East, within 13 kilometres of the Perth CBD and five kilometres of Perth Airport. Offering RAV 7 truck accessibility from both Roe Highway and Tonkin Highway as well as freight rail access via the Kenwick Rail Freight Facility, RHLP is the best-connected industrial estate in Perth.Roe Highway Logistics Park is owned by a consortium including Hesperia, Gibb Group and Fiveight (a company of Tattarang).