Sandvik signs long-term agreement with Glencore Queensland Metals
Landmark SEK 1.4 billion (AUD 249 million) agreement signed in June establishes Sandvik as major provider of drills, loaders and trucks for Glencore Queensland Metals operations over six years.
Sandvik will supply Glencore's underground mobile mining equipment and aftermarket parts under a deal struck at the end of June this year.
The agreement, valued at SEK 1.4 billion (AUD 249 million) over a six-year lifespan, will see Sandvik become the key provider of drills, loaders and trucks for Glencore's metalliferous mines in Queensland and New South Wales, Australia. Sandvik will also provide parts, service, rock tools, and digital and automation technology for the new Sandvik fleet.
Following the signing of the agreement on June 30, Glencore placed an initial equipment order totalling SEK 300 million (AUD 47 million), which was reported in the second quarter report, with a Sandvik DD421 development drill the first piece of equipment supplied under the deal on 1 September 2020.
Sandvik Mining and Rock Technology's Global Account Manager for Glencore, Tim Redmond says the deal comes after more than a year of negotiations and follows Glencore issuing a heavy mining equipment (HME) tender in 2018. Glencore requested an additional response to the tender in early 2019 asking the company to deliver a more innovative and collaborative solution.
Mr Redmond explains that Sandvik was happy to rise to the challenge.
"We spent nearly a year working closely with the Glencore team to identify exactly what was needed for the long-term success of their assets," Mr Redmond says.
"Our solutions enabled us to optimise the upfront capital costs and provide a competitive supply of aftermarket services moving forward."
Glencore Queensland Metals General Manager − Mining, Simon Pope says the agreement is significant with all heavy mobile mining equipment at Glencore Queensland Metals sites being supplied by the one Original Equipment Manufacturer (OEM), replacing the status quo where equipment from multiple suppliers was used.
"This innovative partnership with Sandvik will help us improve the way we operate and maintain mobile equipment in our underground mines by providing us with a real reduction in the total cost to operate our primary fleet, an important factor in enabling a sustainable future for our mining operations," Mr Pope says.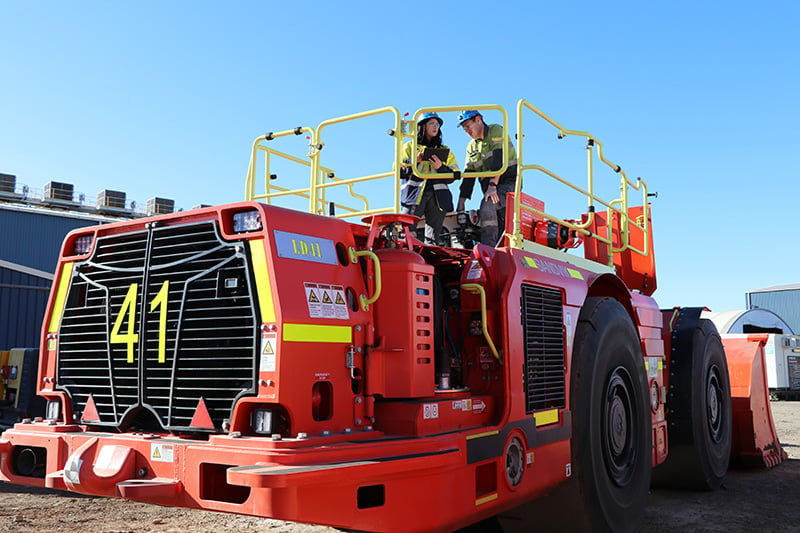 Automation readiness a key factor
As a world-leading mining equipment manufacturer, Mr Redmond says Sandvik is committed to improving customer's productivity and profitability.
"Sandvik showcased technologies solutions for collision avoidance, tracking of assets and automation to Glencore and other industry players at the Digitization in Mining conference in Brisbane in 2019," says Mr Redmond.
Mr Pope says having a fleet with a single technology platform ensures Glencore are in a good position to undertake mine intelligence projects and promote additional automation and vehicle interaction controls moving forward.
"We look forward to working with Sandvik to share operational and maintenance insights through new and emerging technologies and unlocking further improvements in safety for our people and the productivity of our mines."
"Sandvik machines have played a key role in our operations for a number of years and have a proven track record for productivity and reliability." says Mr Pope.
Tim Redmond says the beauty of the Australian Glencore deal is that it creates a model that can now potentially be duplicated in other markets and with other commodities.
"Rather than each party simply trying to get the best price, this agreement adds new value to the relationship and creates benefits for everyone."
For more information, contact:
Emily Neil
Marketing and Communications Coordinator – APAC
Sandvik Mining and Rock Technology
email: emily.neil@sandvik.com
---------------------------------------------------------------------------
About Glencore
Glencore is one of the world's largest global diversified natural resource companies and a major producer and marketer of more than 60 commodities. The Group's operations comprise around 150 mining and metallurgical sites and oil production assets. With a strong footprint in over 35 countries in both established and emerging regions for natural resources, Glencore's industrial activities are supported by its global marketing network.
Glencore Queensland Metals owns and operates a number of copper and zinc-lead-silver mines in Australia: Mount Isa Mines and Ernest Henry Mining are located in Queensland, while CSA Mine is located near Cobar, New South Wales.
Sandvik Group
Sandvik is a high-tech and global engineering group offering products and services that enhance customer productivity, profitability and safety. We hold world-leading positions in selected areas – tools and tooling systems for metal cutting; equipment and tools, service and technical solutions for the mining industry and rock excavation within the construction industry; products in advanced stainless steels and special alloys as well as products for industrial heating. In 2019, the Group had approximately 40,000 employees and revenues of about 100 billion SEK in more than 160 countries within continuing operations.
Sandvik Mining and Rock Technology
Sandvik Mining and Rock Technology is a business area within the Sandvik Group and a global leading supplier of equipment and tools, service and technical solutions for the mining and construction industries. Application areas include rock drilling, rock cutting, crushing and screening, loading and hauling, tunneling, quarrying and breaking and demolition. In 2019, sales were approximately 45 billion SEK with about 14,000 employees in continuing operations.