Ashcroft Plant impressed with fuel economy from Sandvik crushing and screening duo
Cumbrian based Ashcroft Plant Cumbria Ltd purchased a Sandvik QJ341 jaw crusher and QE341 scalper to cater for their needs in their expanding recycling business.
Established in 1994 Ashcroft Plant Cumbria Ltd. originated as a one man band, founded and managed by Chris Ashcroft. Over the past decade, the company has expanded into a profitable business and has 110 employees, up to 50 subcontractors and a turnover of 10 million pounds. They specialize in groundworks, civil engineering & demolition projects throughout Cumbria, Northumberland, Lancashire and South West Scotland.
A key part of the expansion has been the recycling aspect of the business. Ashcroft decided to develop its own recycling yard two years ago and initially brought equipment in on hire to process the recycled material. With the increasing need to supply usable aggregates for their own projects and for resale to other clients, Chris decided to invest in his own mobile crushing and screening plant for his site early in 2016.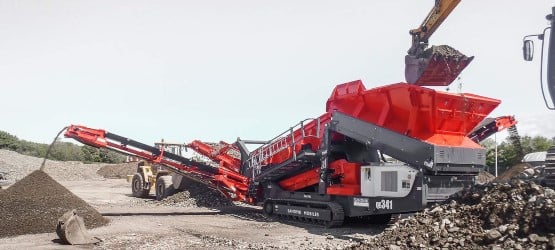 Having hired Sandvik equipment previously, Chris Ashcroft was already familiar with the range of equipment offered by Sandvik Mobile Crushers and Screens. He contacted Sandvik and a demonstration was organized of a Sandvik QJ341 jaw crusher and QE341 heavy duty scalper in April this year. Following the demonstration, Chris took no convincing that these mobile units were the right machines for the job and signed the contract straight away. "Sandvik had the right products for our needs. The salesman was very knowledgeable, understood our requirements and put the right deal on the table" said Chris.
Focus on fuel economy
The QJ341 is the perfect solution for their recycling application. Featuring a 1200 x 750mm C12 single toggle jaw, it has a hydraulically adjustable CSS, and user-friendly PLC control system with colour screen for ease of operation. Fitted with a CAT fixed speed engine, the QJ341 is extremely economical. This back to basics engine brings with it many additional customer advantages, generating more horsepower and requiring no AdBlue or EGR, so is therefore very easy to operate. "We have found the fuel economy to be good" comments Chris. "Production rates are excellent, especially in clean material".
Ideal for their recycling site and for processing asphalt is the reverse crush function. This feature helps to relieve blockages, which combined with the hydraulically lowering main conveyor is a key benefit of the QJ341 in recycling applications.
Quick and easy to configure
Purpose built for heavy duty recycling applications, the QE341 makes the perfect match for the QJ341. Whether it's working before or after a primary crusher or as a standalone unit, the QE341 is designed to deliver high production with clean separation.
One of the features which impressed Ashcroft is the ability to configure the unit with reversed side conveyors or conveyors positioned on one side, unique in this product category. This proves particularly beneficial in tight confined spaces often found in recycling applications.
Other attributes of the QE341 are the modular frame design of the screenbox and hydraulic jack-up screen facility, both of which enable quick and easy changeover of screen media. This saves time and money when Ashcroft need to change the screen mesh over for processing different material. The machine is currently fitted with a 25mm mesh in the top deck and 6 mm piano wire in the bottom deck for processing topsoil.
The QE341 also comes complete with features designed to improve the experience for the operator. It is equipped with a one-touch sequential start / stop facility with colour-coded numerical push button functions. The power pack provides easy access for maintenance and to help keep operating costs to a minimum, the QE341 is powered by a CAT C4.4 83kW engine with a fuel consumption less than 15 l/h. The model also comes with two speed tracking which helps to reduce travel time between job sites.
Not missed a beat
Chris Ashcroft has now been using the QJ341 and QE341 for 6 months and they have proven the ideal fit for his recycling and demolition business. He has been very pleased with the performance and reliability of the equipment and aftermarket support from Sandvik. "The QE341 has not missed a beat since the day it was delivered" comments Chris. "Service has been good and any issues we have experienced have been resolved quickly".
Continually expanding, Ashcroft has acquired a larger depot for their head office this year and looking to the future, Chris concludes by adding that Sandvik would definitely be in the running if they were to purchase another machine for his operation.
For more information, contact:
Kimberley Page
Marketing Manager, UK & Ireland
Office Phone: +44 (0)1283 818163
Kimberley.Page@sandvik.com