Search
2667 hits
2667 hits on "all pages" in entire website
Local miners will have their first opportunity to view the world's largest battery-electric truck for underground mining when Sandvik TH665B makes its Australian debut at the International Mining and Resources Conference (IMARC) in Sydney November 2-4.
Dino™ DC420Ri is a surface top hammer drill rig for 51 to 76 mm (2 to 3") hole sizes. The compact yet robust machine offers mobility and stability for working in urban construction sites, as well as for demanding quarry and infrastructure applications. Dino™ DC420Ri delivers the largest
The AT - Pipe Umbrella System developed by DSI Underground, a Sandvik Company, is available as an optional kit to be installed on selected underground drills. This mechanized solution avoids manual connection / disconnection of pipes, it reduces significantly the direct exposure of workers to
Sandvik is expanding its plant in Turku, Finland to incorporate the manufacture of battery-electric vehicles (BEVs) for underground mining. Alongside the expansion, which is set to be completed in the second half of 2023, the whole of the plant for load and haul equipment is set to be enhanced
Sandvik Mining and Rock Solutions has introduced its AutoMine ® Concept Underground Drill, the company's second technology demonstrator for its future autonomous mining vision.
In response to growing demand for agnostic automation systems in surface mining, Sandvik Mining and Rock Solutions and Flanders have entered into an agreement to develop and deliver a digital interface between the FLANDERS ARDVARC Autonomous Drill System (ADS) and Sandvik iSeries rotary
TH665B battery electric truck from Sandvik is the largest battery powered dump truck made for underground mining conditions. It utilizes the cutting edge Lithium-Iron Phosphate (LiFePO4 or LFP) battery chemistry. The fully battery powered truck produces no underground exhaust emissions and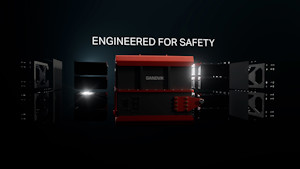 Gold miner Agnico Eagle will explore the safety, efficiency and sustainability benefits of battery-electric technology by trialing a Sandvik LH518B underground loader at its Fosterville Gold Mine later this year.
Sandvik Mining and Rock Solutions has received a large order in Chile for surface mining equipment and its AutoMine ® Surface Drilling solution from Movitec, a contractor on Codelco's Rajo Inca open pit project. The order includes two Leopard™ DI650i down-the-hole (DTH) drill rigs and