Toro™ TH551
i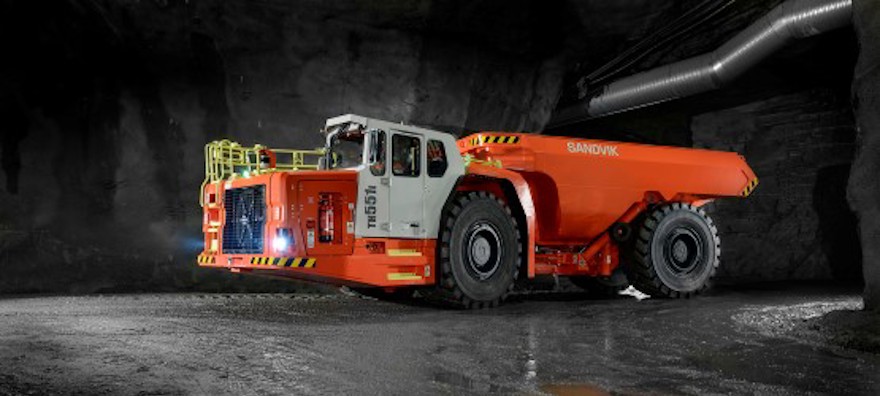 Toro™ TH551i is an intelligent high-productivity 51 tonne underground truck, belonging to Sandvik Toro™ family.
Need to know more?
Safer. Stronger. Smarter.
The Toro™ TH551i truck offers increased productivity and efficient ore moving process. Low own weight, 51 tonnes payload capacity and high ramp speeds are designed to boost productivity.
Designed with operator and maintenance safety in mind, the truck is equipped with industry leading cabin offering superior operator ergonomics, and multiple digital solutions for easy maintenance and trouble shooting.
The Toro™ TH551i truck fuel efficient 515 kW Stage II / Tier 2 Volvo engine offers long lifetime and low cost of ownership.
When ultra-low Sulphur fuel is available, Sandvik offers Tier 4i engine option from Volvo, featuring best in class MSHA and CANMET ventilation rates, without sacrificing performance and fuel efficiency.
Toro™ TH55i features multiple smart solutions such as Sandvik Intelligent Control system as well as OptiMine® data collection and AutoMine® readiness as standard. Additional features such as an integrated jacking system and integrated weighing system (IWS) are available as options.
All Sandvik underground trucks are designed to operate fully loaded and at high speeds on long spiral haulage ways with up to 20% gradient.
Toro™ TH55i is a matching pair with the Toro™ LH517i loader for three-pass loading.
Advantages
Low own weight, high capacity and fast ramp speeds
Premium cabin ergonomics for operator comfort
Sandvik Intelligent Control System enabling multiple digital solutions, including AutoMine® and OptiMine®
Maintenance friendly with smart placement of key service areas and service access
Integrated jacking system for safer and faster tyre change
Low cost per tonne by extended component lifetimes and robust structure
Technical data
Dimension (L-W-H)
11.5 x 3.2 x 3.2 m
Box range
24 - 30m3
Capacity
51 metric ton
Weight (operating)
46,870 kg
Engine power
515 kW
Speed (loaded)
33.4 km/h