DT1231 Tunneling jumbo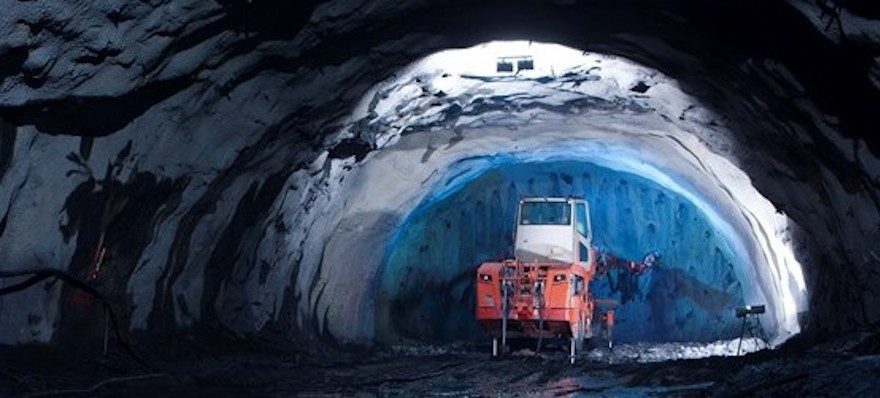 Sandvik DT1231 three-boom, electro-hydraulic jumbo is designed for fast and accurate drilling in tunneling and cavern excavation. It is an advanced drilling system with added automatic functions and optional instrumentation to maximize productivity and ensure high-quality tunneling. It drills holes with a diameter of 45 to 64 millimeters (1 ¾ to 2 ½ inches) with a depth of up to 6.2 meters (20 feet).
Need to know more?
Sandvik DT1231 is equipped with a FOPS-certified cabin, which features noise and vibration insulation. This ensures optimal safety and comfort for the operator. The built-in diagnostics systems ensure consistent efficiency, whilst enabling you to recognize potential maintenance issues at an early stage. This reduces overall downtime, and enables high productivity levels for longer periods.
Advantages
RD5 series rock drills deliver superior performance with high consumable life
Universal booms with large optimum shaped coverage and full automatic parallelism
Optional utility boom for bolting and utility works
Powerful four-wheel-drive carrier ensures rapid tramming and good balance
Technical data
Tunnel size
11,926 - 19,193 mm (356 - 582 in.)
Coverage area
20 - 211 m² (215 - 2 271 ft²)
Hole diameter
45 - 64 mm (1 ¾ - 2 ½ in.)
Hole length
Up to 6,180 mm
Rock drill
RD525, 25 kW (33.5 hp)
Control system
Electronic TPC561
Boom
3 x SB150i
Elevating boom support
YES
Feed
TF500, 18 ft
Length
17,780 mm (58 ft) with default feed
Width
3,860 mm (12.7 ft) drilling
3,050 mm (10 ft) tramming
3,050 mm (10 ft) transportation
Height
4,670 mm (15.3 ft) drilling
3,670 mm (12 ft) tramming
Weight (depending on options)
42,000 kg (92,594 lbs) basic
48,000 kg (105,822 lbs) with utility boom