DT1131 Tunneling jumbo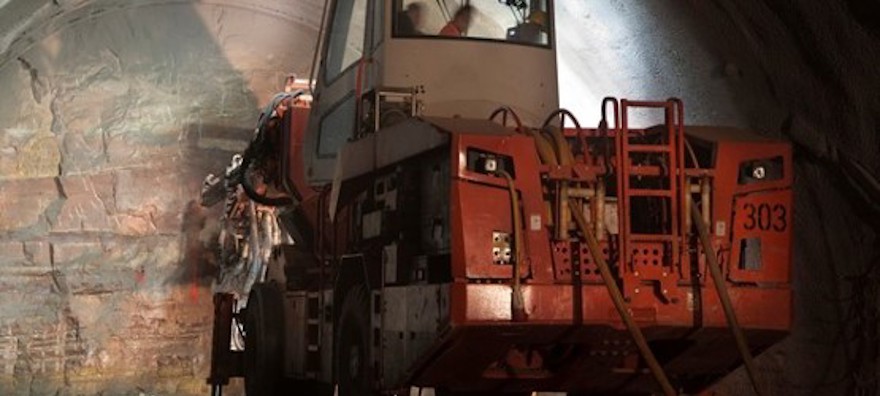 Sandvik DT1131 three-boom, electro-hydraulic jumbo is designed for fast and accurate drilling in tunneling and cavern excavation. It is a powerful drill rig with added automatic functions and optional instrumentation to maximize productivity and ensure high-quality excavation. It drills holes with a diameter of 43 to 64 millimeters (1 ¾ to 2 ½ inches) with a depth of up to 6.2 meters (20 feet).
Need to know more?
Sandvik DT1131 can be equipped with hydraulic or electronic drilling systems, and they are available in both cabin and safety canopy versions. The equipment is robust, reliable and versatile, and can be used for face drilling, cross-cutting and bolt hole drilling.
Sandvik DT1131 also comes with a built-in diagnostics system, which flags can flag potential maintenance issues. This reduces downtime, and maintains optimum productivity.
Advantages
RD5 series rock drills deliver superior performance with high consumable life
Universal booms with large optimum shaped coverage and full automatic parallelism
Optional utility boom for bolting and utility works
Powerful four-wheel-drive carrier ensures rapid tramming and good balance
Technical data
Cornering
11,860 mm
11,860 - 6,040 mm
Engine power
170 kW
Feed length
17,780 mm
Length (with default feed)
Hole diameter
43 - 64 mm
Hole size (drifting)
Boom/Mast type
SB150
Carrier type
Axle steering in engine end Orbitrol
Control system

THC 561

Engine type
MB OM904LA, Tier 3