Tiger™ DG810 Surface top hammer drill rig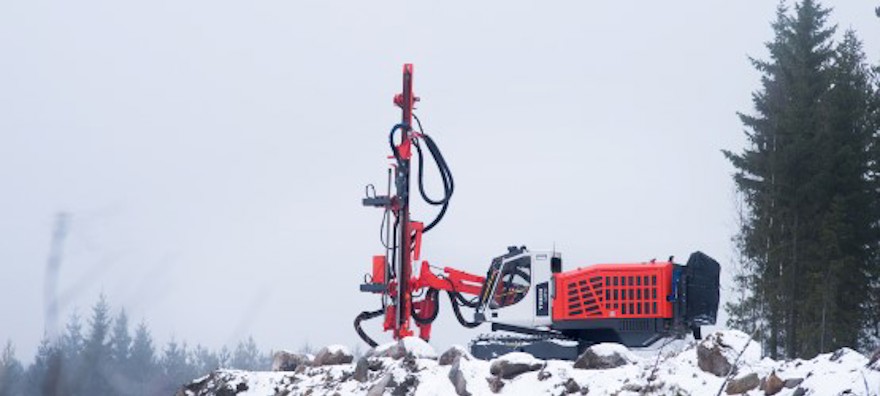 Designed with an economical approach, Tiger™ DG810 has a clear focus on delivering continuous productivity, whilst prioritizing operator safety. They are designed especially for civil construction projects, site preparation, wall control and pipeline drilling, as well as production drilling in medium-sized quarries.
Need to know more?
Top-class performance with affordable investment
Tiger™ DG810 gives excellent rates of penetration with high performing Sandvik rock drills, and improved blasting results due to advanced Rock Pilot+ drilling control system which guarantees smooth collaring and delivers better overall hole quality. This equipment features excellent stability and top-class balance with a robust structure, low center of gravity and heavy duty tracks.
Premium drilling experience
Tiger™ DG810 is productive and user-friendly, and also equipped with series of improved safety and environmental features to ensure the best possible user experience. The cabin is soundproof, safe and spacious, with a tailor-made user interface to give extra operator comfort. All daily maintenance points can be reached from the ground level too, minimizing overall downtime.
Advantages
Excellent stability even in the most uneven terrain
Straight holes with Rock Pilot+ drilling control system
Low fuel consumption
Easy-to-use interface
ROPS- and FOPS-certified safety cabin
Other models within this series of drill rigs include the Tiger™ DG710 surface top hammer drill rig.
Technical data
Recommended hole diameter
76 - 127 mm (3- 5 in.)
Drill rod / tube diameter
45 or 51 mm (1 ¾ or 2 in.)
Hydraulic rock drill
HL820T, 21 kW 28 hp
HF820T, 23 kW 32 hp (option)
Engine type
Caterpillar C7.1 (Tier 3)
Engine output power
168 kW (228 hp) / 2 200 rpm
Flushing air capacity
8.1m³/min, up to 10 bar
9.6 m³/min, up to 10 bar (option)
Operator cabin
Ergo cool
Certificate
ROPS and FOPS
Transport Length
8.4 m (27.6 ft)
Transport Width
2.45 m (8.0 ft)
Transport Height
4.0 m (13,1 ft)
Weight
15,700 kg (34,612 lb)