Ranger™ DX800 Surface top hammer drill rig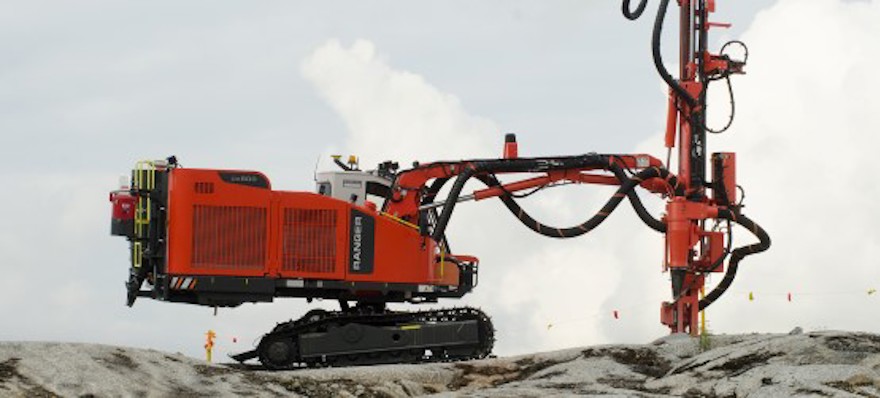 Ranger™ DX800 is a hydraulic, diesel-powered, self-propelled top-hammer drill rig, and is engineered for work in challenging terrain for site set up, pre-split, and production in surface drilling. The self-contained and crawler-mounted rig has a revolving superstructure, unmatched stability, and drills holes with a diameter of 76 to 127 millimeters (3 to 5 inches).
Need to know more?
Ranger™ DX800 features an ergonomic, high-visibility cabin and a rod handling system, prioritizing operator safety and experience.
Ranger™ DX800 drill rigs are best suited to drill hole sizes between 76 to 127 mm (2 to 5 in.) in applications such as road cutting, pipeline drilling and foundation drilling as well as production drilling in medium-sized quarries and open pit mines.
This equipment ensures stability thanks to its counterweight solution, which keeps a steady operation even in the toughest conditions. The rig also features the Rock Pilot+ drilling control system, which is designed to ensure smooth rotation, solid rock contact and fast penetration in different rock conditions.
Other models within this series of drill rigs include the Ranger™ DX700, Ranger™ DX600 and Ranger™ DX500.
Advantages
Excellent stability even in uneven terrain
Drilling coverage of 17.6 m² (optionally 26.4 m²) 12 hours continuous drilling
Straight holes with Rock Pilot+ drilling control system
High suction capacity dust collectors
Advanced boom design
ROPS- and FOPS-certified safety cabin
Technical data
Recommended hole diameter
76 - 127 mm (3 - 5 in.)
Drill rod / tube diameter
45 or 51 mm (1 ¾ or 2 in.)
Hydraulic rock drill
HL820T, 21 kW / 28 hp
HF820T, 23 kW / 31 hp as option
Engine
Caterpillar C7.1, 168 kW (225 hp) / 1 800 rpm (Tier3 / Tier4F /Stage V)
Flushing air capacity
8.1 m³/min
Operator cabin
Ergo
Certificate
ROPS and FOPS
Transport Length
7.2 m / 10.7 m (24 / 33 ft)
Transport Width
2.45 m (8 ft)
Transport Height
3.6 m / 3.2 m (12 / 11 ft)
Weight
15,600 kg (33,510 lb)