Ranger™ DX700 Surface top hammer drill rig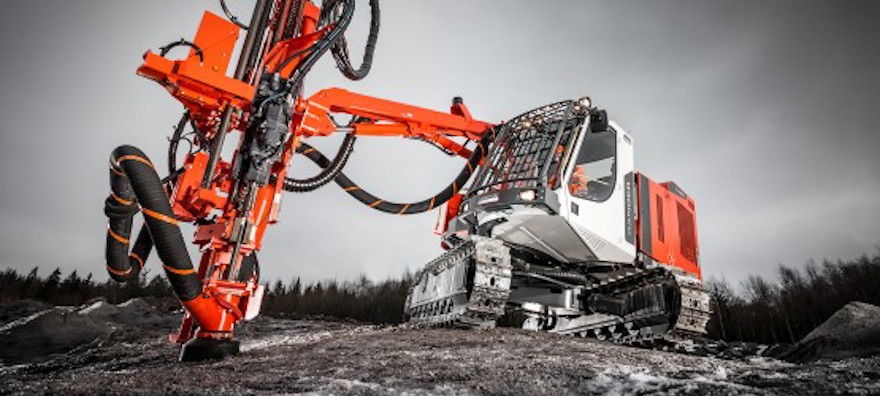 Ranger™ DX700 is a hydraulic, self-propelled, self-contained and crawler-based surface rig with an ergonomic, high-visibility cabin and a rod handling system.
Need to know more?
The Ranger's revolving superstructure, power, precision and versatility make them an ideal choice for construction, quarrying, or surface mining operations.
The equipment has been designed to prioritize operator safety, with a ROPS and FOPS certified cabin, as well as maintaing stability even in the toughest conditions.
Other models within this series of drill rigs include the Ranger™ DX800, Ranger™ DX600 and Ranger™ DX500.
Advantages
Excellent stability even on uneven terrain
Drilling coverage of 17.6 m² (optionally 26.4 m²) 12 hours continuous drilling, making the equipment productive for longer periods
Straight holes with Rock Pilot+ drilling control system
High suction capacity dust collectors reduces maintenance downtime
Advanced boom design increases efficiency
ROPS- and FOPS-certified safety cabin
Technical data
Recommended hole diameter
76 - 115 mm (3 – 4½ in.)
Drill rod / tube diameter
45 or 51 mm (1 ¾ or 2 in.)
Hydraulic rock drill
HL710, 19.5 kW (26.5 hp)
Engine
Caterpillar C7.1, 168 kW (225 hp) / 1 800 rpm (Tier3 / Tier4F / Stage V)
Flushing air capacity
8.1 m³/min, up to 10 bar
Operator cabin
Ergo cool
Certificate
ROPS and FOPS
Transport Length
7.2 m / 10.7 m (24 / 33 ft)
Transport Width
2.5 m (8 ft)
Transport Height
3.6 m / 3.2 m (12 / 11 ft)
Weight
15,200 kg / 33,510 lb