Ranger™ DX600R Surface top hammer drill rig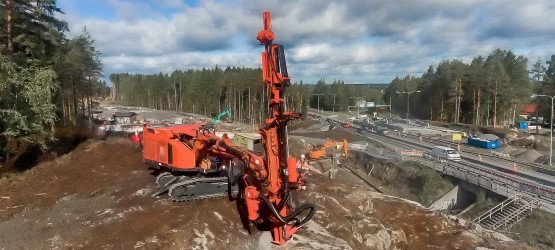 RangerTM DX600R drill rig is a hydraulic, self-propelled, self-con­tained, crawler based surface drilling unit equipped with a radio remote control panel and rod handling system. Ranger™ DXR series is designed for efficient top hammer drilling in difficult terrain where a drill rig with operator's cabin is not feasible.
Need to know more?
Based on the well-known Ranger™ DX series with features such as a revolving superstructure for excellent drilling coverage, an innovative counterweight solution for ultimate stability, a Rock Pilot+ drilling control system, as well as other performance-enhancing solutions, the Ranger™ DXR series will get the job done even in the most challenging conditions. Therefore, the typical applications for the Ranger™ DXR are road cutting, pipe-line drilling and foundation drilling where radio remote control adds safety and flexibility.
Other models within this series of drill rigs include the RangerTM DX800R.
Advantages:
An innovative counterweight solution for excellent stability on uneven terrain
Revolving superstructure for large drilling coverage area of 17.6 m² (optionally 26.4 m²)
Straight holes with Rock Pilot+ drilling control system
High suction capacity dust collectors
Advanced boom design
Fully remote controlled
Technical data
Recommended hole diameter
64 - 102 mm (2½ – 4 in.)
Drill rod / tube diameter
38, 45 or 51 mm (1½, 1¾ or 2 in.)
Hydraulic rock drill
HL650 17.5 kW (23.5 hp)
Engine
Caterpillar C7.1, 168 kW (225 hp) / 1 800 rpm (Tier3 / Tier4F)
Flushing air capacity
6.2 m³/min, up to 10 bar
Transport length
11.3 m (37 ft)
Transport width
2.45 m (8 ft)
Transport height
3.2 m (11 ft)
Weight
15 600 kg (34,392 lb)