Dino™ DC410R
i

Surface top hammer drill rig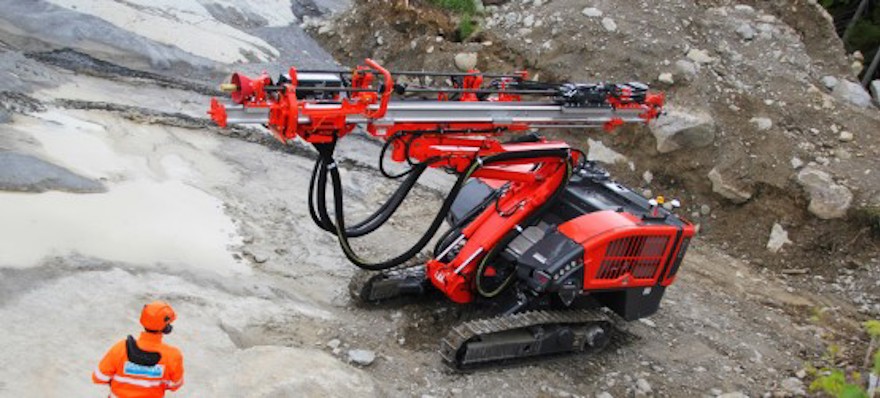 Dino™ DC410Ri top hammer drill rig delivers unrivaled versatility and the largest coverage area in its class. Engineered for easy maintenance and maneuverability in the toughest terrain, the fully remote-controlled drill rig is ideal for construction contractors, quarries and demanding municipal infrastructure projects. Compact yet robust, Dino™ DC410Ri exceeds expectations for top hammer drilling precision and productivity.
Need to know more?
The recently upgraded Dino™ DC410Ri continues to offer mobility and stability for contractors tackling cramped urban construction sites, as well as for demanding quarry and infrastructure applications. The full radio remote control, 14 kW RD414 rock drill, advanced i-series torque control system and up to 18 square meter (193 sq ft) coverage area add up to a cost-effective and productive solution for demanding jobs.
The rigid and extensive boom with patented collaring guide offers stability and accuracy, but also more drilling hours from one single setup. Easy maintenance through ground level service points and transportability are valuable assets that will make your work easier. Powerful tracks with 15 percent more tramming power compared to the previous model and the completely new remote control unit with redesigned joysticks and upgraded components, ensure that the new Dino™ DC410Ri will respond with precision – even in the most uneven terrain.
A range of new options available for Dino™ DC410Ri offer even more possibilities to customize the rig for various applications. NoiseShield-DC, new noise reduction option, offers up to a −7.5 dB reduction in A-weighted sound pressure by directing the drilling noise upwards, away from the operator and surrounding areas. Contractors aiming for minimal set-up times can select the feed auto-aligning option, which maintains the alignment of the feed beam at the preset angle even if the position of the boom changes from one hole to the next. Water flushing can be a useful option for applications requiring optimal dust suppression, such as tunneling jobs.
Advantages
Drilling performance with stabilized RD414 rock drill and boom with longest reach of its size
High quality holes with patented collaring guide
Latest fuel saving systems to cut down fuel consumption
Invincible in mobility due to low tramming height and low center of gravity
Ease of maintenance with easy access to all daily service points at ground level and an onboard screen for dignostics
Small transportation dimensions
Fully remote controlled
Technical data
Recommended hole diameter
51 - 76 mm (2 - 3 in.)
Drill rod / tube diameter
32, 35, 39 mm
Hydraulic rock drill
Sandvik RD414, 14 kW (19 hp)
Engine
Volvo TAD570VE, 105 kW (141 hp) (Tier3)
Volvo TAD570VE, 105 kW (141 hp) (Tier4F)
Flushing air capacity
3.5 m³/min, up to 8 bar
Transport length
6.6 m (21.7 ft)
Transport width
2.35 m (7.7 ft)
Transport height
2.8 m (9.2 ft)
Weight
abt. 10,000 kg (22,046 lb)