DR410
i

ROTARY BLASTHOLE DRILL RIG

Compact, powerful and technologically advanced, Sandvik DR410i is designed to deliver unmatched productivity and return on investment for 152-251 mm (6-97/8 in) rotary and DTH holes, with a standard mast offering a first pass capability of 10 m or 33 ft and a max depth of 46.6 m or 153 ft. The extended mast option delivers a first pass depth of 14 m or 46 ft with a total depth capacity of 32.3 m or 106 ft across all recommended pipe diameters.

Need to know more?
Extreme productivity in a compact footprint
Sandvik DR410i is AutoMine® ready providing functionality for both on-board and off-board automated needs. This scalable solution, from on-board automation that increases drilling efficiency to full autonomous operation, is designed to meet customer needs both now and in the future.
Advantages
Sandvik Intelligent Control System Architecture (SICA) provides the operator with real-time feedback regarding the machine's performance and health, along with tools for drill planning, reporting and analysis, improving availability and productivity
Our scalable iDrill automation platform provides automation options and digital services which yield accurately placed, consistently clean, precision-drilled holes delivering improved fragmentation, productivity and asset utilization.
Extended mast option delivers a first pass option of 14 meters or 46ft with a total depth capacity of 32.3m or 106 ft eliminating the need to add pipe, improving productivity and reducing cost
Patented deck wrench allows bit change in conjunction with optional remote-control crane eliminates manual bit handling enhancing operator safety
Dedicated ladder provides easy access to mast components for inspection and maintenance. Safety is enhanced with the addition of Fiberglass Reinforced Plastic grating mast infill and certified tie-off points addressing working at heights concerns
Cab offers superb ergonomics with touch screens and keypads mounted to the swivel-enabled operators' seat, raised positioning offers a full unobstructed view of the drill table via the extra-large drillers window
iDrill scalable automation platform
All iSeries drill rigs are equipped with iDrill technology. This scalable automation platform provides automation options and digital services designed to speed up your production process and support your mine operations. You can use as much or as little as you need knowing is available when you need it.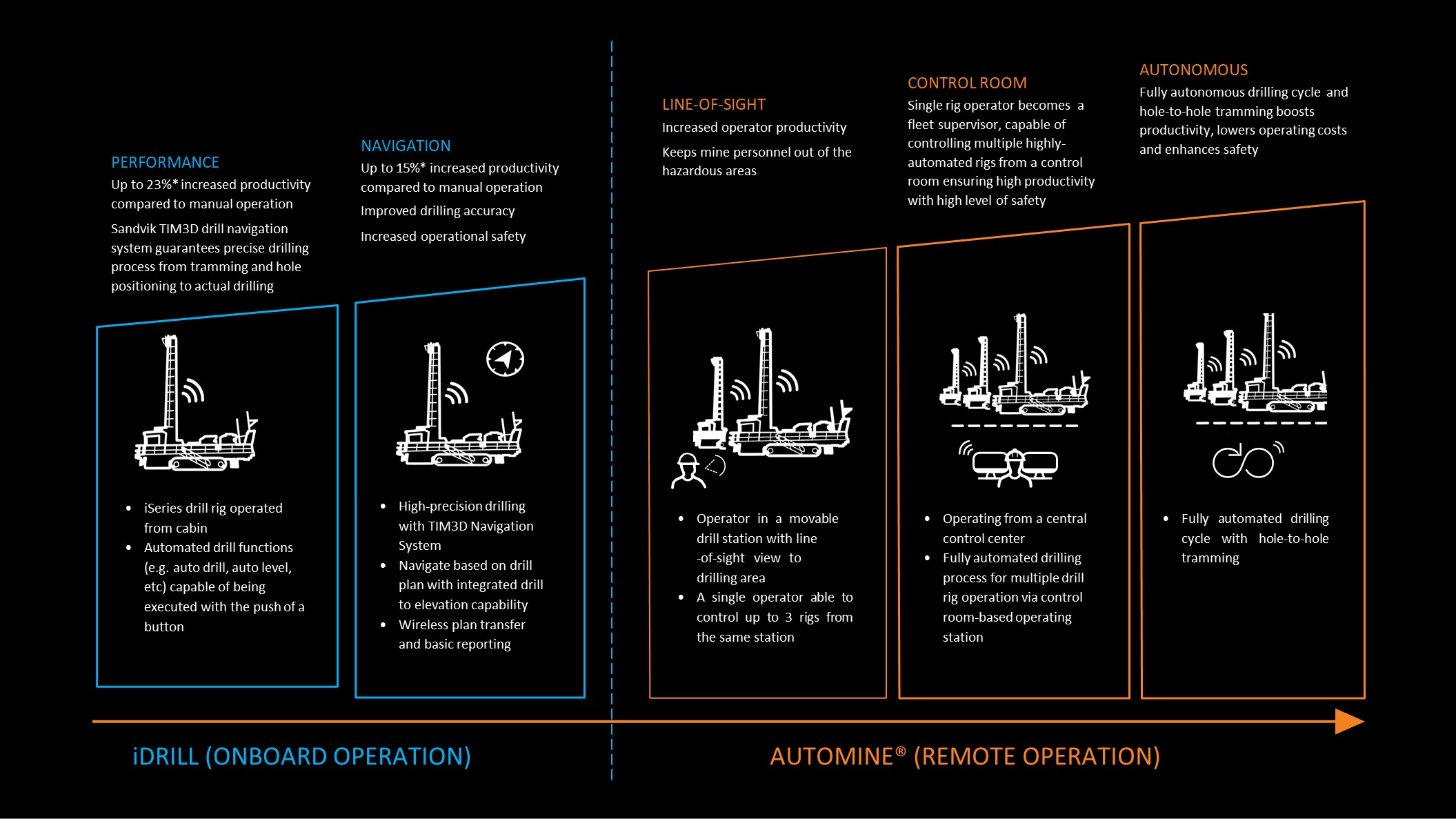 Our optional AutoMine® for Surface solution allows you to leverage iDrill technology to further scale up automation according to your business needs. AutoMine® for Surface covers all aspects of automation, from remote and autonomous operation of a single piece of equipment, to multi-machine control and full-fleet automation.
Compare the features available within iDrill and AutoMine
Technical data
Engine power
562 kW (755hp)
Max hole depth (Std. Mast)
Up to 46.6m (153 ft)
Max hole depth (Ext. Mast)
Up to 32.3m (106 ft)
Dimension mast up (Std. Mast) (L-W-H)
11.25 m x 5.74 m x 16.61 m (36 ft 11 in x 18 ft 10 in x 54 ft 6 in)
Dimension mast down (Std. Mast) (L-W-H)
16.81 m x 5.74 m x 7.36 m (55 ft 2 in x 18 ft 10 in x 24 ft 2 in)
Dimension mast up (Ext. Mast) (L-W-H)
11.25 m x 5.74 m x 20.62 m (36 ft 11 in x 18 ft 10 in x 67 ft 8 in)
Dimension mast down (Ext. Mast) (L-W-H)
20.82 m x 5.74 m x 7.36 m (68 ft 4 in x 18 ft 10 in x 24 ft 2 in)
Hole diameter
152 - 251 mm (6.0 - 9 ⅞ in)
Operating weight range
63,503-70,307 kg (140,000-155,000 lb)
Rotary head
130 rpm / 8,340 Nm / 6,150 ft lb
First pass depth (Std. Mast)
10 m (33 ft)
First pass depth (Ext. Mast)
14 m (46 ft)
Compressor Standard low pressure
45.3 m3/min 1,600 SCFM @ 6.9 bar 100 psi
Compressor Standard high pressure
41 m3/min 1,450 SCFM @ 24.1 bar 350 psi
Weight on Bit
258 kN (58,000 lb)
Max. Pull Down Force
222.4 kN (50,000 lb)
Drilling technique
Rotary / DTH
*Consult factory for options and alternate power group arrangements