Dimensional stone drill rigs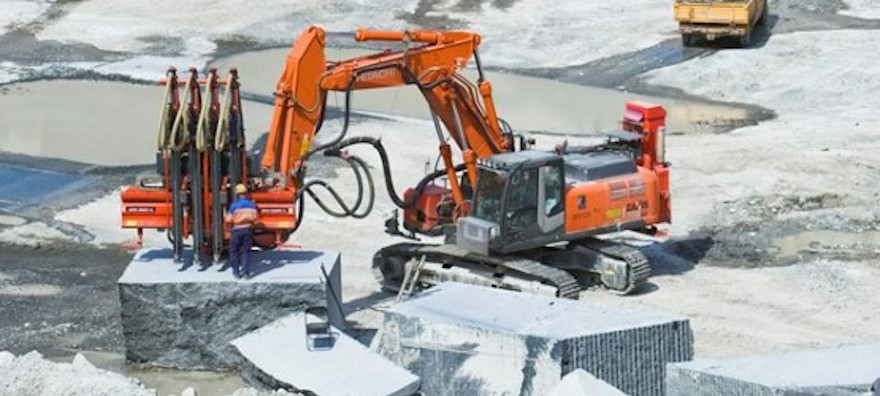 Sandvik drilling equipment for the dimensional stone industry includes compact rig assemblies for attachment to carriers such as hydraulic excavators, as well as self-propelled, diesel-powered drill rigs that are completely self-contained. The range can produce excellent block quality, and you can select the equipment to to suit your specific needs.
Need to know more?
The Sandvik DQ series consists of four different rigs: Ranger™ DQ500, Trimmer DQ440R, Trimmer DQ440ZR and Trimmer DQ240R. Each of them is designed to drill straight, accurately placed holes quickly, safely, efficiently and economically. Covering applications such as line drilling, splitting, trimming and pilot-hole drilling, they are equipped with powerful, energy-efficient hydraulic rock drills, ergonomic controls and efficient dust collectors.
Model
Hole range mm
Rock drill
On-board compressor
Engine kW
Weight kg
Ranger™ DQ500
45-89
HL510,
15.5 kW
6.2 m³ / min up to 10 bar
168
15,400
Model
Drill steel mm
Rock drill
Control system
Chain feed
Weight kg
Trimmer DQ440ZR
H19 / H22
4 x HEX1,
5.5 kW
4 x TA341E, radio remote
4 x CF
100 x 24
4,000
Trimmer DQ440R
H19 / H22
4 x HEX1,
5.5 kW
4 x TA341E, radio remote
4 x CF
100 x 24
4,000
Trimmer DQ240R
H19 / H22
2 x HEX1,
5.5 kW
4 x TA341E, radio remote
4 x CF
100 x 24
4,000