In-the-hole longhole drill rigs
DU311-TVK
Parallel coverage

0.762 m

Longhole diameter

89 - 254 mm (4 - 10 in.)

Drill pipe length

1.22 - 1.83 m (4.00 - 6.00 ft)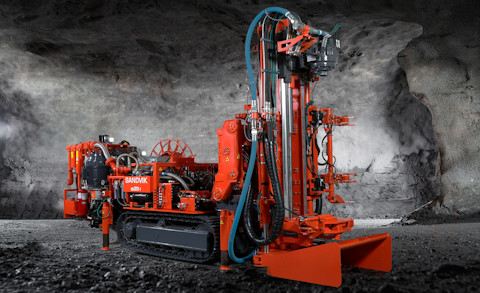 Sandvik DU311-TVK is a compact, track-mounted, in-the-hole (ITH) longhole drill fitted with an onboard booster and designed for underground mining in 3.8 x 3.8 meter or larger production drifts. This compact production drill can be used with the V-30 reaming head in raise boring for slot or ventilation raises, ore passes, waste chutes or service holes. It can also drill vertical and inclined fans and single or parallel longholes up to 100 m in depth.
Onboard booster

Sandvik DU311-TVK is fitted with an onboard KR 551 reciprocating booster with 55 kW electric motor. Reciprocating compressors are used where high compression ratios are required per stage without high flow rates.

Robust rotation head

The drill has a robust RH6230 rotation head with heavy-duty air actuated spined piston, allowing fast uncoupling of pipes without break-out table. This rotation head offers high radial loading capability on the bearings in pushing and pulling applications.

Robust tracks

The carrier is equipped with triple grouser tracks, offering high levels of stability and increased weight distribution when tramming in mine drifts.
Product specifications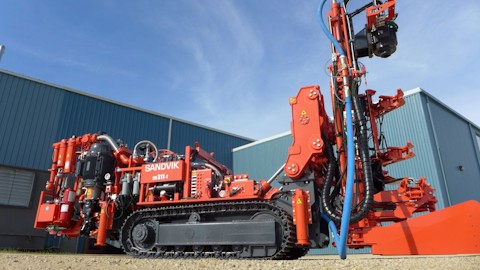 Learn more about DU311-TVK features
Suitable for most mining methods
The production drill is suitable for most mining methods and various support applications due to its 360° feed rotation, wide slide-over and feed tilt.
Compact drill size for production drilling
The compact drill is an optimal size for production drilling and service support in narrow mine drifts.
Stable,

safe

and accurate
The heavy-duty feed positioning system offers accurate alignment and stability in drilling. The mechanized pipe carousel improves safety and productivity.
CANbus

control system
The field-proven CANbus control system and drilling instrumentation ensure good control of the drilling operation for improved performance, hole accuracy and tool life.
Can't find the answer to your questions?
Are you looking for a spare part or component?
Looking for technical specifications?