Sandvik adds to its iSeries family of rotary blast hole drills with the DR410i
Continuing our long tradition of developing innovative technology to help our customers enhance safety, improve productivity and reduce cost, Sandvik Mining and Rock Technology introduces the Sandvik DR410i rotary blasthole drill.
Extreme productivity in a compact footprint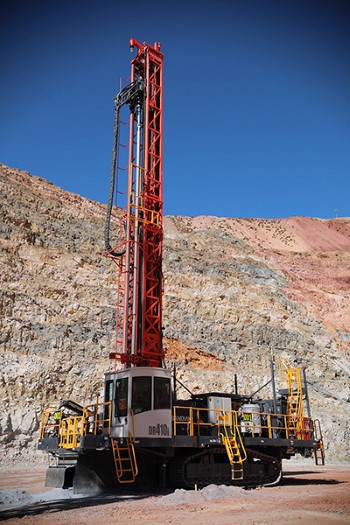 Compact, powerful and technologically advanced, Sandvik DR410i is designed to deliver unmatched productivity and return on investment for 6-97/8" (152-251 mm) rotary and DTH holes, with a standard mast offering a first pass capability of 10 m or 33 ft and a max depth of 46.6m or 153ft. The extended mast option delivers a first pass option of 14 meters or 46ft with a total depth capacity of 32.3m or 106 ft. across all recommended pipe diameters.
The Sandvik DR410i is automation-ready, when equipped with our AutoMine® solution module which provides functionality for both on-board and off-board automated needs. This scalable solution, from on-board automation that increases drilling efficiency to full autonomous operation, is designed to meet customer needs both now and in the future.
The Sandvik DR410i is the result of tireless and innovative design efforts focused on Safety, Productivity and Value.
Safety – Minimizing personnel risk
A number of features are available to protect operators and maintainance personnel while minimizing risk in the dangerous environments where drilling is often conducted:
Ergonomic cab environment reduces operator fatigue
Patented deck wrench allows bit change in conjunction with optional remote-control crane eliminates manual bit handling, reducing injury potential.
Dedicated ladder provides easy access to mast components for inspection and maintenance. Safety is further enhanced with the addition of fiberglass reinforced plastic grating mast infill and certified tie-off points addressing working at heights concerns.
Non-rust fiberglass reinforced grating used throughout for improved footing and rust resistance.
Productivity – Durability and innovation improve performance
Key features of the Sandvik DR410i work collectively to increase productivity. The Sandvik Intelligent Control System Architecture (SICA) provides the operator with real-time feedback regarding the machine's performance and health, ensuring quality and consistency hole-to-hole. Some of the other key productivity-enhancing features include:
Single-pass depth to14m without the need to add pipe
Rotary or DTH drilling options
58,000 lbf (258 kN) weight on bit
Onboard automated features such as Auto Drill and Auto Cycle ensure quality and consistency hole-to-hole.
Auto Mast and Auto Level functions ensure consistent operations and reduce wear on structural weldments.
Breakout wrench speeds change from one pipe to another.
Value – Reducing costs with improved efficiency
The Sandvik DR410i is equipped with several features that improve the efficiency of customers' operations while simultaneously cutting costs:
Scalable solution, from on-board automation that increases drilling efficiency to full autonomous operation
Live oil sampling station eliminates potential for system contamination
Fast-fill fluid service center speeds fluid replenishment
Dave Shellhammer, President, Rotary Drilling Division, Sandvik Mining and Rock Technology comments "We continue to expand our iSeries family of rotary blasthole drills with the introduction of Sandvik DR410i. This automation-ready, mid-size drill provides mines in hard rock conditions with a powerful and productive option to safely drill the perfect hole, providing exceptional value. The rapid expansion of our iSeries family reinforces our culture of fast-moving innovation and our never-ending focus on our customers, whose feedback we have used in the development of this new product."
Alachua, Florida, USA, June 17, 2020
For more information, contact:
Rob Ewanow
Sandvik Mining and Rock Technology
tel: +1 386-418-7728
e-mail: robert.ewanow@sandvik.com
---------------------------------------------------------------------------
Sandvik Group
Sandvik is a high-tech and global engineering group offering products and services that enhance customer productivity, profitability and safety. We hold world-leading positions in selected areas – tools and tooling systems for metal cutting; equipment and tools, service and technical solutions for the mining industry and rock excavation within the construction industry; products in advanced stainless steels and special alloys as well as products for industrial heating. In 2019, the Group had approximately 40,000 employees and revenues of about 100 billion SEK in more than 160 countries within continuing operations.
Sandvik Mining and Rock Technology
Sandvik Mining and Rock Technology is a business area within the Sandvik Group and a global leading supplier of equipment and tools, service and technical solutions for the mining and construction industries. Application areas include rock drilling, rock cutting, crushing and screening, loading and hauling, tunneling, quarrying and breaking and demolition. In 2019, sales were approximately 45 billion SEK with about 14,000 employees in continuing operations.