QH332 DDHS cone crusher unveiled at Hillhead 2018
Sandvik Mobile Crushers and Screens unveiled what it believes to be the 'ultimate' in tracked, mobile cone crushing technology at Hillhead 2018 – the QH332 DDHS.
The brand new Sandvik Mobile Crushers and Screens QH332 Double Deck Hanging Screen (DDHS) is a tracked, self-contained cone crusher with an on board diesel engine. It is based on the world leading QH331, with this new cone crushing solution also providing the functionality of a double or single deck (utilising the top deck as a breaker deck) hanging screen in a fully detachable and stand-alone form. Able to be detached / attached without the use of additional lifting equipment, the QH332 DDHS thus delivers multi-functionality as a 1, 2 or 3 way split screener as well as a highly productive and efficient cone crusher.
Crushing and screening in one unit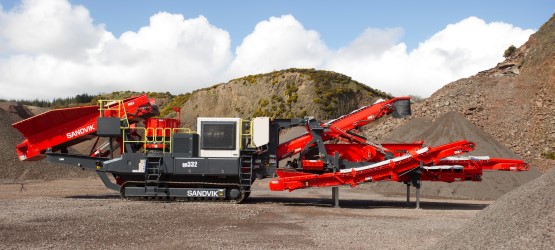 The Sandvik CH430 cone crusher is at the heart of this world leading piece of technology. It is equipped with a hydroset system which provides CSS adjustment at the touch of a button. The automatic setting regulation system not only optimizes production, it also keeps track of liner wear, making it easy to plan liner changes and minimize interruptions in production. The CH430 cone has choice of six concaves and three eccentric bushes providing a range of throws from 16 mm to 36 mm, with these providing unrivalled flexibility regarding CSS ranges, production and material gradation.
As well as being equipped with world-leading Sandvik Mobile Crushing and Screens cone crushing technology, the QH332 DDHS comes complete with a stand-alone double deck hanging screen which is completely detachable. This provides its users with the flexibility to operate in open or closed circuit, with the unique design of the QH332 DDHS enabling rapid set-up in less than 30 minutes. The double deck, hanging screen enables the machine to produce two screened products and recirculate the oversize back into the feed conveyor. The oversize conveyor can be hydraulically rotated through 90º for stockpiling up to three products on the floor. The tail section can be raised hydraulically to give improved ground clearance for transport when loading or unloading.
World leading features
Amongst the features of the QH332 DDHS are durability through the chassis being constructed from heavy duty 'I' beam, as well as its heavy duty, hydraulically-positioned feed conveyor with optional wear resistant liners and hydraulic folding hopper extensions. An 'up and over' metal detector provides the ultimate in cone protection from tramp material. Other features include:
Variable screen angle and hydraulically positioned to create a single deck HS using the top deck as a breaker deck without the need for a screen mesh removal
On-board My Fleet for live remote monitoring of plant/hours/location etc.
Battery and DEF tank relocated for easier access
No crusher backing required behind the liners which allows the crusher to be operational immediately after a liner change.
Direct drive through a wet clutch with eight SPC drive belts to ensure maximum fuel efficiency and power delivery.
Variable crusher speed through the engine rpm to manipulate the gradation of the end product.
Maximum feed size up to 185 mm and capable of up to 220 tph on the larger bush setting.
Further enhancing its crushing operations, a remote camera has been installed for viewing the crushing chamber, which enables the operator to set up and ensure a choke feed on the crusher from ground level.
With these and other new features, the QH332 is set to continue the success of the Sandvik Mobile Crushers and Screen line of mobile crushers.
For further information, please contact:
Melissa Baker
Marketing Communications Manager
Sandvik Mobile Crushers and Screeners
Tel: +44 (0) 1283 818164
Email: melissa.baker@sandvik.com
---------------------------------------------------------------------------
Sandvik Group
Sandvik is a high-tech and global engineering group offering products and services that enhance customer productivity, profitability and safety. We hold world-leading positions in selected areas – tools and tooling systems for metal cutting; equipment and tools, service and technical solutions for the mining and construction industries; products in advanced stainless steels and special alloys as well as products for industrial heating. In 2017, the Group had approximately 43,000 employees and sales of 91 billion SEK in more than 150 countries within continuing operations.
Sandvik Mining and Rock Technology
Sandvik Mining and Rock Technology is a business area within the Sandvik Group and a global leading supplier of equipment and tools, service and technical solutions for the mining and construction industries. Application areas include rock drilling, rock cutting, crushing and screening, loading and hauling, tunneling, quarrying and breaking and demolition. In 2017, sales were approximately 37 billion SEK with about 15,000 employees in continuing operations.