Sandvik compact crushing and screening duo on display at Demo Expo
Sandvik Mining and Rock Technology will be taking the opportunity of this year's Demo Expo to showcase two of the smaller members of their mobile crushing and screening range, with the QJ241 jaw crusher and QE241 scalping screen on display. Demo Expo is a demolition show, organised in conjuction with the National Federation of Demolition Contractors (NFDC) and takes place from Thursday 22nd until Saturday 24th June at the Hertfordshire Showground.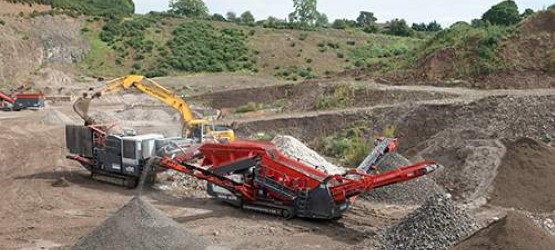 Developed from customer feedback the Sandvik QJ241 jaw crusher and QE241 scalper have been designed for your smaller operation. Their small footprint means they are easy and economical to transport, which combined with low operating costs and maximum productivity, they offer the ideal combined crushing and screening duo for your recycling needs.
QJ241 Reliability and performance
The Sandvik QJ241 features the reliability and performance of a powerful 1000 x 650 mm jaw, with hydraulically adjustable jaw setting to maximise your output and a 168kW / 225 hp engine for optimum efficiency. It comes fitted with a number of features specifically designed for recycling. These include:
Reverse crushing action to crush sticky material or relieve blockages
Hydraulic drive enabling the crusher to start under load, minimising downtime
Raise/lower facility on the main conveyor, ideal for your recycling operations
Automatic central lubrication system for reducing maintenance time
QE241 Compact and versatile
The Sandvik QE241 features a massive 11 'x 4' / 3.5 x 1.24m double deck screenbox, the largest in its class, to increase screening efficiency and maximize your throughput. Compact in design and easy to transport, our QE241 offers a highly productive, versatile and user-friendly scalping solution like no other. It comes with the following features:
Interchangeable side conveyors and compatible for 2-way or 3-way split configurations
Wide oversize conveyor with variable speed to handle more oversize product
Screenbox jack up facility for easy access to bottom deck media
Choice of different screen media available for different applications
Demo Expo will take place over three days with a family day on the last day of the event. We look forward to welcoming visitors to our booth, which will be located at Stand E1.
For further information, please contact:
Kimberley Page
Marketing Manager, UK & Ireland
Office Phone: +44 (0)1283818163
Email: kimberley.page@sandvik.com