iSeries Intelligent Rotary Drilling
The iSeries family of rotary blasthole drill rigs represents the next generation of surface drilling technology. Designed for the future, these automation capable drills are equipped to meet your needs today and in the future.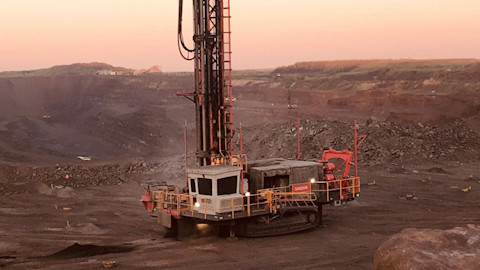 iSeries drill rigs simplify operation using automated functions while an intuitive user interface delivers a consistent operator experience across all drill models. The proven Sandvik Intelligent Control System Architecture (SICA), a key component of our iSeries family, provides the operator with real-time feedback regarding the machine's performance and health, along with tools for drill planning, reporting and analysis ensuring quality and consistency hole-to-hole.
Sandvik DR410i delivers Productivity Unmatched, for 6-9 7/8 in. (152-251 mm) rotary and DTH holes, with a single-pass capacity of 14 m/46 ft, and a max depth of 46.6 m/132 ft in the multi pass configuration.
Sandvik DR412i is "Dependability Defined" with a hole diameter of 216-311 mm (8.25-12.25 in.) for rotary and DTH drilling, a single pass capacity of 18 m/59 ft and a max depth of 75 m/246 ft in the multi pass configuration.
Bigger. Smarter. Stronger. Sandvik DR416i is designed for large-diameter 270-406 mm (10 5/8 -16 in.) rotary drilling and delivers a single-pass capacity of 21 m/69 ft, the longest its class with a max depth of 42.4 m/139 ft.
The scalable iDrill automation platform provides automation options and digital services designed to speed up your production process and support your mine operations. You can use as much or as little technology as you need, knowing more is available when you need it.
Our AutoMine® for Surface solution allows you to scale up automation at your own pace. AutoMine® covers all aspects of automation, from remote and autonomous operation of a single piece of equipment, to multi-machine control and full-fleet automation.
Intelligent rigs. Impressive results
How do Sandvik iSeries drills deliver verifiable customer value using intelligent drilling technology? Learn how as Craig Hall, Product Manager Rotary Drills and Demetre Harris, Product Manager Automation illustrate how Sandvik's iSeries family is tailored to solve your drill and blast challenges. Using real life examples, they will demonstrate how the intelligent features of our iSeries family of rotary blasthole drill rigs have helped our customers meet or exceed their production goals.
Need some help?
Talk to our experts about how we can help you today