Optimal feed arrangement
Poor feed conditions can adversely affect productivity and liner life, so it is vital that you get it right. We have picked out two areas that are especially important to think about – choke feeding and spider arm placement.
Choke feeding
The optimal arrangement for a cone crusher is to choke feed it with a non-segregated feed. This will help the crusher run more smoothly by lowering both power and pressure peaks and improving overall performance.
Choke feeding is about maintaining a constantly high level of evenly distributed material in the feed hopper. The recommended level will depend on a number of factors – crushing stage, crusher model, crushing chamber and the risk of bridging (see Chapter F for more information on bridging). However, at a minimum the head nut should always be covered by the feed material.
We have a few other straightforward recommendations on the subject of choke feeding:
Electrically connect and interlock the feed arrangement, so it cannot be started before the crusher and the discharge system are running.
Consider using a Sandvik feed-level sensor to monitor the level of material in the feed hopper. An interlock systems will prevent overfilling.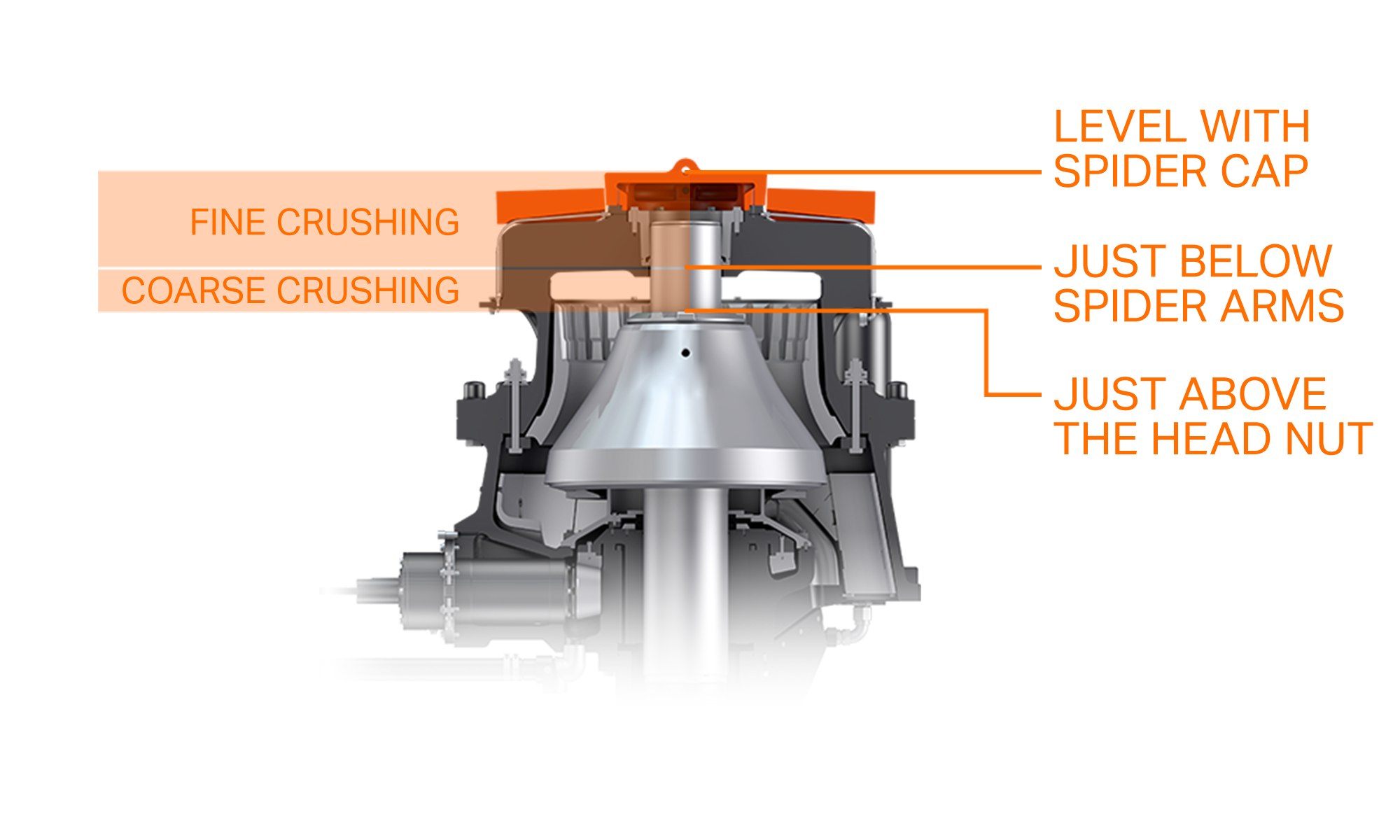 Coupling a variable speed feeder with the feed-level sensor will help you maintain a constant material level in the hopper. A pre-crusher surge bin with a low-level monitor connected to the control system can also ensure proper feeding.
Spider-arm placement
Segregated feed – when coarse and fine particles enter different parts of the crushing chamber – is a major cause of premature liner wear and sub-optimal performance. You can avoid segregation by using a feed distribution device, such as static three way distributor, a splitter or a rotating feed distributor (RFD). If these options are not available, you could try using a feed box to optimize the arrangement as best as possible.
If a splitter or three-way distribution device is installed above the cone crusher, the spider arms will sit at right angles to the feeder or conveyor (see image below left). If a splitter is not used, the spider arm should be aligned with the feeder or conveyor (below right).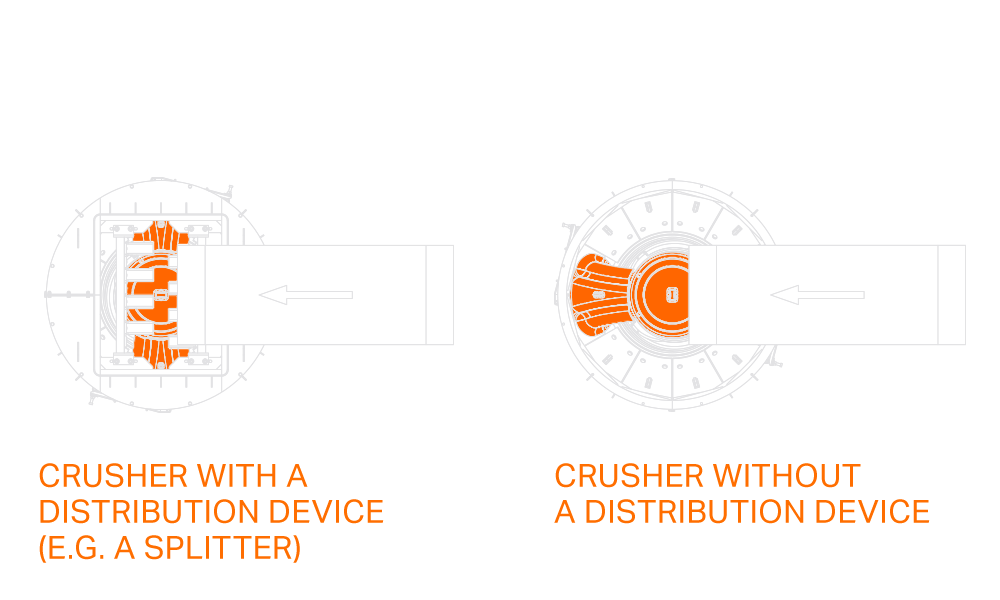 Feed alignment device
In most cases, to truly optimize your feed arrangement you should install a feed alignment device – a Sandvik RFD, for instance. As long as height restrictions do not prevent it, an RFD will soon repay its investment costs by reducing premature liner wear and thus cutting replacement costs. It might also be cost-effective in the long-run to adjust your infrastructure to correct your feed-arrangement problems.