The story about the Top Hammer XL system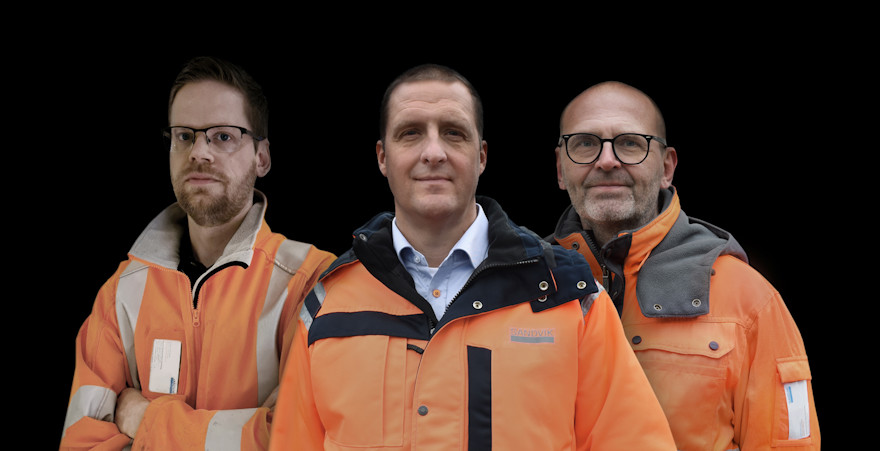 Jarno Viitaniemi, Fredrik Björk and Jukka Siltanen from the Top Hammer XL team at Sandvik.
Optimizing drilling operations and cutting costs is a constant focus of surface
mining companies. At Sandvik, we now have a powerful solution for this: the Top Hammer XL system with Pantera™ DP1600i drill rig, RD1840C rock drill and LT90 rock tools. The Top Hammer XL drilling system expands the hole size range of top hammer drilling up to 178 millimeters (7 inches). It provides a faster and more fuel-efficient drilling method that can considerably reduce CO2 emissions.
"The new rock drill, designed especially for the Top Hammer XL system, tackles the challenge of increasing the percussive energy of drilling action without increasing the drill's physical size. The innovative design results in
improved drilling dynamics, where the rock drill is optimized for the rock tools and the target larger hole size", explains Jukka Siltanen, Product Manager, BU RockDrills at Sandvik."
With the Top Hammer XL system, we have more energy in the whole system.
FREDRIK BJÖRK
Product Manager Rock Tools Surface Drilling at Sandvik
The challenge was mainly solved by improving the drilling dynamics, which in turn requires careful balancing of several potentially conflicting parameters. One of these is the stiffness of the drill string to achieve straight holes, while at the same time avoiding excessive stiffness to prevent breaking of the tools under bending. This also means avoiding too large rod diameters because that will result in higher stresses in the thread joints under bending. Another key balance is between wear resistance and hardness because excessively hard
tool steel will also be too brittle. A major asset for Sandvik in this respect is the steel grade and heat treatment expertise available in-house at Sandviken, Sweden.
The new carrier is based on the reliable and proven Pantera DPi series platform, with upgraded key components to meet the Top Hammer XL system's needs. Jarno Viitaniemi, Product Manager Surface Drilling at Sandvik,
concludes. "Sandvik has a long track record and proven performance in top hammer drilling. Therefore it was natural for us to upgrade the existing, well-known platform to the next level for this new solution."
The efficiency of the new Top Hammer XL drilling system stems from the three components. The proven carrier offers a solid base for the extremely powerful rock drill that generates an optimum pulse for the effective tooling system, which in turn transfers the high-energy shock wave with minimum losses to the rock. The Top Hammer XL system has been thoroughly tested and proven in several field tests by drilling more than 100,000 meters in challenging rock conditions. The test results in the given conditions show a 50 percent reduction in fuel consumption, 25 percent reduction in total drilling costs, and 15 percent increase in productivity compared with the down-the-hole (DTH) drilling method*.