POWERCARBIDE™ XT53
A TOUGHER PICK. AN EASY CHOICE
PowerCarbide™ XT53 is a major innovation in our cutting picks, and is a grade well suited for the demands of rock cutting in medium to hard ground conditions. It can significantly improve your productivity and reduce the picks consumed per BCM (bank cubic meter).
Compered to standard picks, PowerCarbide™ XT53 shows better strength and resistance to deformation at high temperatures, usually experienced during rock cutting. This effect is achieved through an alloy design which enables the tools to become stronger and more wear resistant.
---
Make the right pick for sustainable productivity
Sandvik cutting tools are engineered using our very own carbide technology. This means they last longer than standard cutting tools. Fewer tool changes mean increased productivity, increased safety and valuable time saved.
Not only that, we take care of your old used cutting tools and make sure the carbide gets used again. All part of our drive towards a better, more sustainable future for you and your operations.
---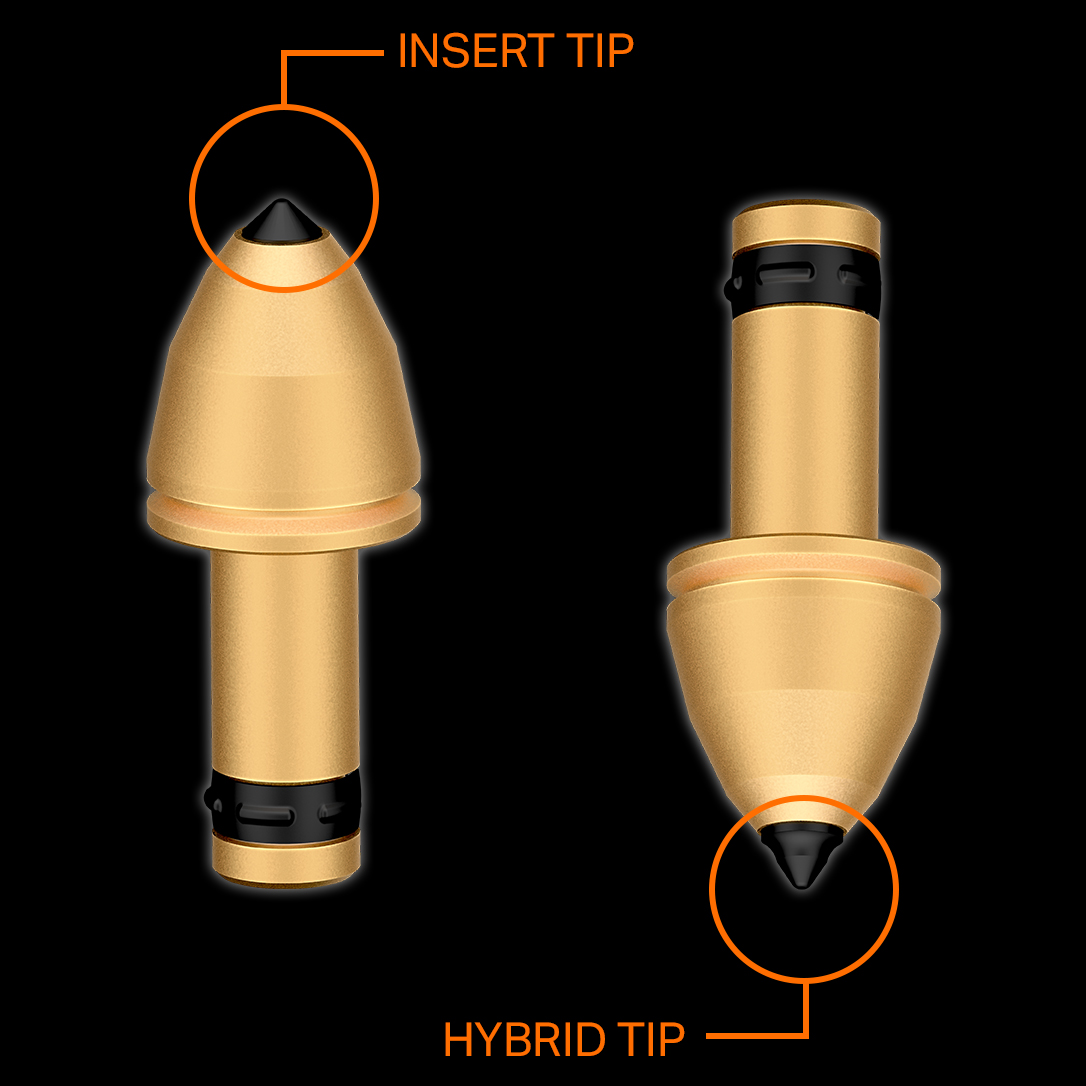 XT53 - 25% reduction in tool failures compared to standard grades.
Insert carbide tips prevail in high impact conditions or when you are working with hard materials. These industry-leading tips are ideal for penetration applications where steel wash is not an issue.
XT53 - 43% reduction in tool failures compared to standard grades.
Our hybrid tip combines the best properties of our CAP and insert carbide tips. They are best suited for medium to hard materials where steel wash can be an issue. They include a flared nose, valve seat braze joint and extended base to provide excellent penetration while maintaining maximum strength, shear resistance and durability in difficult conditions.
---
Test results: Tunneling hard sandstone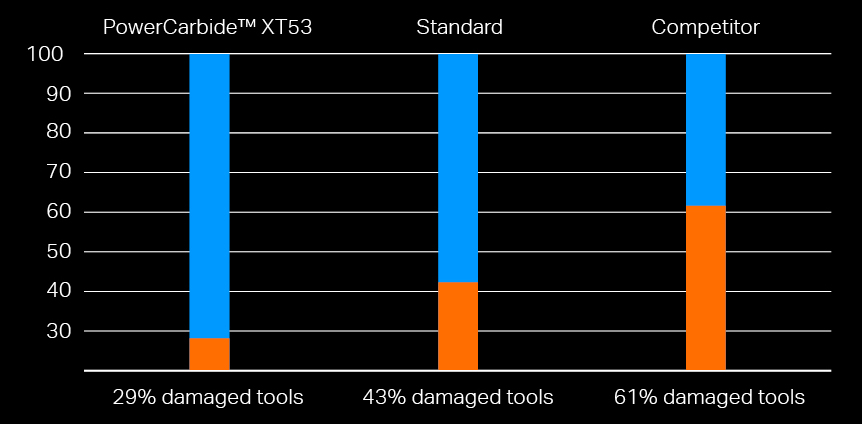 Condition: Component sandstone
Tunneling: Dual lane tunnels with interchanges
Method: Roadheader cutting leading and trailing cuts
Sandvik tools: PowerCarbide™ XT53 tool and standard grade 648 tool
Competitor tool: Standard grade tool
Summary: Current test results show that our XT53 grade can be up to 52% better than competitor standard grades, looking at tool failure improvement at product end of life. Additional value seen with our premium carbide is more aggressive and faster cutting, saving both time and money.
---
PowerCarbide™
PowerCarbide™ is a gathering of our most powerful carbide grades, representing the very best materials technology we have to offer.
Our XT grades (XT = Extra Tough), feature high wear resistance and optimized toughness. In tough testing, they have proven to be 1.5 to 3 times more effective than other products on the market for hard-to-extreme tunneling, trenching and coal mining applications.